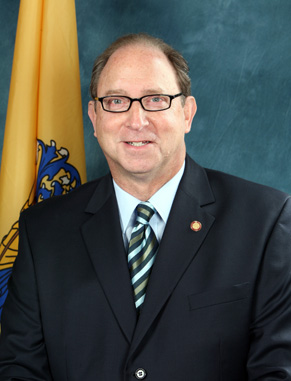 Douglas H. Fisher
Secretary of Agriculture
Phone 609-292-3976
Fax 609-292-3978

Douglas H. Fisher is a lifelong resident of an agricultural area in New Jersey.   His focus as Secretary of Agriculture is to support New Jersey's working farms and help ensure the Garden State's continued status as an agricultural powerhouse by promoting the state's diverse agricultural sectors while uniting them under a common message that underscores their importance to the state's economy, their crucial role in maintenance of a safe and healthy food supply and their contribution to an enhanced quality of life for all NJ residents.

As Secretary, Fisher serves as the Chairman of the State Agriculture Development Committee, Chairman of the Transfer of Development Rights (TDR) Bank Board, and Chairman of the State Soil Conservation Committee.  In addition, he serves as Vice President of Food Export-Northeast, Secretary/Treasurer of the National Association of State Departments of Agriculture, and Secretary for the Northeast Association of State Departments of Agriculture.

Fisher was born in Bridgeton in 1947.  He graduated from Bryant University in Smithfield, Rhode Island, where he received a Bachelor of Science Degree in Business Administration.  He served in the New Jersey National Guard from 1969 to 1975. In 1971, he began a 30-year career as a supermarket owner and operator.

Following his career in food marketing, Fisher worked as a Realtor and New Jersey owner of The Entrepreneur's Source, a coaching firm that assists individuals seeking business ownership and franchise opportunities.

Fisher's political career began in 1989 when he served on the Bridgeton City Council.  From there, he was elected to the Cumberland County Freeholder Board, where he served for 10 years, half of that time as Board Director.  While a freeholder, Fisher helped to institute a set-aside for farmland preservation.

From 2001 to 2009, he served as Assemblyman in the 3rd legislative district, which encompasses Cumberland, Salem and Gloucester counties.

While in the Assembly, Fisher served as Deputy Majority Whip and Chairman of the Agriculture and Natural Resources Committee.  He also served on the Budget, Regulatory Oversight, Regulated Professions and Telecommunications and Utilities Committees.

As a state legislator, Fisher sponsored numerous farmland, open space, and preservation bills.  In 2008, he was the prime sponsor of the law to ban harvesting of Horseshoe Crabs, which enhanced the survival of many endangered migratory shorebirds in the Western Hemisphere.  He sponsored organic labeling legislation and he also introduced the original bill to limit the use of handheld cell phones in motor vehicles.

In addition to his political positions, Fisher has been a member of the Bridgeton Rotary for more than 25 years and is a past-President of the South Jersey Freeholders Association; past-Treasurer of the South Jersey Economic Development District; and, past-Secretary of the South Jersey Transportation Planning Organization.

Fisher has been lauded for his work on agricultural issues from various organizations:  2010 National FFA Honorary American Degree; Gloucester County Board of Agriculture, 2008 Distinguished Service to Agriculture; New Jersey Nursery and Landscape Association, 2008 Legislator of the Year; New Jersey Association of Conservation Districts, 2007 Outstanding Conservation Legislator; 2006 Honorary New Jersey FFA Degree; and New Jersey Farm Bureau, 2005 Distinguished Service to New Jersey Agriculture.

Fisher and his wife, Bonnie, have three children:  Susan, Eric and Carly.