NJCHAP - NJ Cattle Health Assurance Program
Contact: Dr. Anne Pierok, (609) 671-6400

Handbook for Veterinarians and Dairy Producers (pdf 366k)

Top 10 Considerations for Culling and Transporting Dairy Animals to a Packing or Processing Facility (pdf 2 MB)

Recommendations for Professionals Visiting Livestock Operations (pdf 87k)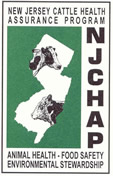 The mission of NJCHAP is to assure a healthful and safe food supply by advocating the adoption of good management practices and biosecurity principles that promote animal health/welfare, improve profitability of cattle farms, and encourage environmental stewardship. Call the Division of Animal Health at (609) 671-6400 to schedule a herd risk assessment on your farm.
In the four years the program has been offered, 40 herds have been enrolled. The cooperative effort among NJDA personnel, Rutgers Cooperative Extension agents, and dairy producers focuses on herd testing and identification of Johne's-positive animals using blood test and fecal cultures, both of which are processed in the NJDA laboratory.
A secondary focus of the program is the development of an individualized herd plan for each producer. The plan helps identify and remedy high-risk areas for Johne's transmission to calves and young stock. NJDA's Johne's control program gives participating dairy producers a head start on compliance with USDA's Johne's control guidelines.
NJCHAP is a program modeled after the New York State Cattle Health Assurance Program (NYSCHAP). It consists of a core module with eight offshoot modules that build off the knowledge gleaned from the core module. All modules are designed to help the producers target areas in their business where they might be able to realize increased profits. The program ideally brings Division of Animal Health (DAH) personnel, regular herd veterinarians and extension agents to the producers as consultants to help them realize a financially profitable future in the state of NJ.
The Core Module: Designed to offer producers a "Best Management Practices" overview. With the aid of DAH, the farmers can have input from DAH consultants to help them improve the farm's bottom line by discussing possible areas were management changes might minimize the amount of work they have to do and to increase the profitability of their operation.

The Johne's Module: The most popular module for NJCHAP and the entry point for most farmers. It allows farmers to develop customized eradication, control and prevention strategies for this disease with the aid of NJDAH staff and resources. The goal is to be able to certify herds as Johne's negative in accordance with Federal Guidelines.