Home
>
News
>
Hot Topics
>
Exotic Tick Species Update: All Tests Negative On Affected Sheep
Exotic Tick Species Update: All Tests Negative On Affected Sheep
On November 9, 2017 the National Veterinary Services Laboratory (NVSL) in Ames, Iowa confirmed the finding of an exotic East Asian tick (Haemaphysalis longicornis), also known as the longhorned tick or bush tick, on a farm in Hunterdon County. This was after initial identification by the Center for Vector Biology at Rutgers University and the Hunterdon County Division of Health. This tick is not known to occur in the U.S.
The animals and the property where the tick was found have been treated to eliminate the tick. Ongoing surveillance by the authorities is being conducted to determine if the tick has spread to nearby wildlife.
The sheep was tested for various livestock specific diseases, including Piroplasmosis, Anaplasmosis, Q fever, Heartwater and various blood parasites at the NVSL, and all tests are negative. The sheep is doing well and no additional ticks have been found on the property.
State and Federal Animal Health and wildlife officials continue to work jointly to monitor the situation. Response efforts include surveillance of the property and wildlife within the region. Tick treatments will be used on the animal and environment as necessary to prevent the tick from spreading. The primary goal is to eradicate the tick before it spreads to new areas.
Questions with regards to livestock can be directed to your veterinarian or the State Veterinarian at (609) 671-6400 during regular business hours.
This tick is also a known pest in deer and has a wide host range, thus can infect a range of wildlife species. If the tick is detected in wildlife, then it should be immediately reported to the NJ Division of Fish and Wildlife, Bureau of Wildlife Management at (609) 984-6295 or the Office of Fish and Wildlife Health and Forensics at (908) 637-4173 ext. 120.
Persons with questions about tickborne illness in humans can contact their local health department (http://localhealth.nj.gov) or NJDOH during normal business hours at 609-826-5964.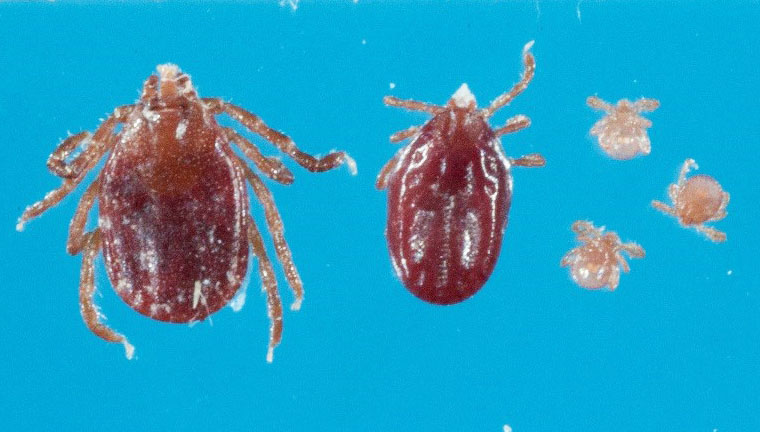 Image: Haemophysalis longicornis, from left to right is an adult female, an engorged nymph and larvae. Both males and females can be found on a host. Photo courtesy of Jim Occi, Rutgers University.
Exoctic Tick Fact Sheet
On August 1st, 2017, a Hunterdon county resident brought in several ticks that had been removed from their pet sheep.
The one sheep is the only animal on the property and has not left the property for many years.
Initial identification of the haemaphysalis longicorniswas tick species was made by the Center for Vector Biology at Rutgers University and confirmation was made at the United States Department of Agriculture (USDA) National Veterinary Services Laboratory (NVSL) on November 9, 2017.
This tick, known as the Bush Tick or longhorned tick, has never been in the USA, but has been intercepted on several occasions on animals entering the country, particularly horses.
The tick is found in East Asia, New Zealand and Australia and is the most widespread tick species on wild and domestic animals in Japan.
The tick is a serious pest to livestock including cattle, horses, farmed deer, sheep and goats in its native range and in other parts of the world where it has been introduced, as well as wildlife, pets and humans.
They tend to be found in tall grasses, such as meadows and paddocks, and are known to survive harsh winters.
The affected sheep has been treated and blood was drawn and sent to NVSL for disease testing.
The property is being treated and follow up wildlife surveillance is ongoing.
The tick is a non-descript, brown colored tick with both males and females able to feed (see image below), however, the invasive form is when females show the ability to produce eggs without the use of a male, as found in this case.
Adult females can lay between 800-2000 eggs in the soil in mid-summer with larvae being found in late summer-early Fall.