JERSEY FRESH PRODUCE AVAILABLE IN SOUTHERN NEW JERSEY AT HEIGHT OF GROWING SEASON
Agriculture Secretary Visits Markets in Salem, Camden and Gloucester Counties
For Immediate Release: August 14, 2008 
Contact: Lynne Richmond 
(609) 633-2954

(TRENTON) – New Jersey Secretary of Agriculture Charles M. Kuperus today highlighted the availability of Jersey Fresh produce at community farmers markets in South Jersey with visits to Salem, Virtua Health in Camden and Woodbury farmers markets.

"New Jersey residents do not have to travel far to enjoy the freshly-picked, nutritious produce that is now available in South Jersey," said Secretary Kuperus.  "Jersey Fresh is at its height of the season and our farmers are reporting that, in spite of strong storms that caused significant damage for some earlier this week, there still is an abundant high quality crop.  We encourage people to seek out these products at the 18 community farmers markets throughout South Jersey and support these hard-working farm families."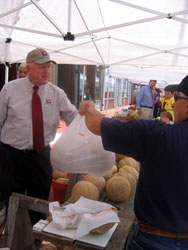 The Salem Farmers Market is in its sixth year and has four farmers. The market is open on Thursdays 9:30 a.m. to 1:30 p.m. through September 18th in front of First Baptist Church on West Broadway and features live music.

"The downtown market has brought people back into the downtown area," said market manager Chris Davenport of Salem Main Street.  "The Jersey Fresh brand has helped us think locally and educate people why local and fresh is better.

Secretary Kuperus purchasing melons

The Virtua Health Farmers Market is one of the state's 18 new community farmers markets this year.  The market has one farmer and is open Thursdays 11 a.m. to 3 p.m. through November 6th. It is located at the corner of Mt. Ephraim Avenue and Atlantic Avenue in Camden.  Special activities during the market include grilling, demonstrations, music and line dancing.

The Camden Area Health Education Center (AHEC) runs five markets:  Camden Farmers Market; the market at the Transportation Center; Fairview Farmers Market-Yorkship Square; Our Lady of Lourdes Community Farmers Market; and Virtua Health Farmers Market.  Virtua Health provides funding for its own market.

"Secretary Kuperus' visit to this Farmers Market underscores the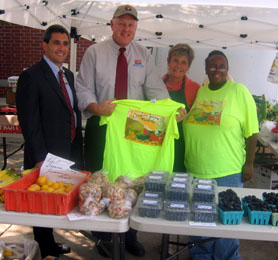 important role these places play in the health and welfare of city residents and workers," said Carol Wolff, Executive Director at Area Health Education Center (AHEC).  "Our First market was a response to the absence of affordable fresh produce in the City of Camden. The response has been so great that, now, we have five busy markets throughout the city, including the newest here at Virtua."
Virtua Health CEO Christopher Chekouras, Secretary Kuperus, farmer Bonnie Pastore, and Falynn Milligan of (AHEC)

The Woodbury Farmers Market, started by a group of volunteers six years ago, has seven farmers and 12 to 13 vendors, selling baked goods,  salsa, jams and other items. To promote New Jersey produce, the market kicked off the season with a tomato tasting contest in search of the best tasting tomato in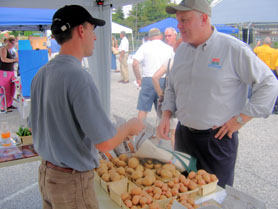 Gloucester County. The market is open on Thursdays from 2 p.m. to 6 p.m. through October 2nd. It is located at 66 Main Street along the railroad parking lot behind Town Hall.

Secretary Kuperus talks with farmer Barry Savoie of Williamstown about his crop

"The market has had a positive impact on Woodbury," said market manager Virginia Horn.  "In addition, we want to help sustain agriculture in the Garden State and promote Woodbury's economy."

In New Jersey, there are 111 community farmers markets operating in the state.  Of the 18 new markets, two are in southern Jersey:  Margate Farmers Market in Atlantic County and Virtua Health Farmers Market in Camden County.

Community farmers markets provide area residents with access to nutritious locally grown fruits, vegetables and other agricultural products, as well as support state farmers and help strengthen the agricultural industry in New Jersey. 

These markets participate in the Women, Infants, and Children (WIC) and Senior Farmers Market Nutrition Program makes available locally grown fresh fruits, vegetables, and herbs to nutritionally at-risk eligible WIC participants, including children 2-5 years old and eligible seniors age 60 and older.  WIC participants and eligible seniors receive up to six $5 checks, valid through November 30, to purchase locally grown produce from certified farmer vendors. 

In 2007, there were 150,000 WIC checks and 129,000 senior checks redeemed through the Farmers Market Nutrition Program in New Jersey.  The federal Farm Bill authorized an additional $500,000 for the senior program, which could benefit an additional 20,000 people.  For more information on the Farmers Market Nutrition Program, visit www.nj.gov/agriculture/divisions/md/prog/wic.html.

For complete information on locations, days and hours of community farmers markets throughout New Jersey, visit www.state.nj.us/jerseyfresh/searches/urban.htm.