What is the New Jersey Learning Management System (LMS)?

The New Jersey LMS is a simple to use, web-based software system that delivers alternative and supplemental online educational courses and training. It also provides substantial backend tracking, reporting and documentation needed by any organization. The LMS provides a cost effective, customizable experience for both employees and managers, and seamlessly compliments traditional classroom training.
Skillsoft®, one of largest providers of technology-delivered eLearning content, is available on the Learning Management System (LMS).

Learn more about the Learning Management System (LMS) here.
New to eLearning: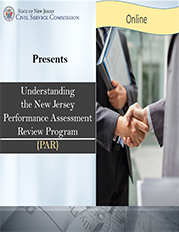 LMS Assistance
Welcome to the LMS eLearning community!

The LMS Assistance Page will provide you with helpful tools to answer some commonly asked questions regarding navigating the LMS System.
Please take advantage of the End-user Tutorial (located on the banner in the upper right-hand corner of your LMS home page).
Provide by:

You will learn valuable navigation techniques to enhance your learning experience.