Office of Sustainability
What is Sustainability?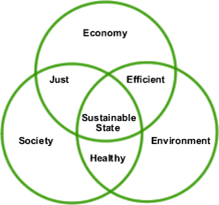 The most common definition of "Sustainability" / "Sustainable Development" is development that meets the needs of the present without compromising the ability of future generations to meet their own needs" - The United Nations World Commission on Environment and Development (The Brundtland Commission, 1987).
Sustainability is often represented by the symbol on the right. Each ring represents one of the three systems that support our civilization: the economy, the environment, and our society. Each of these rings overlaps, i.e. influences, or is affected by, the other two. For a community to be sustainable, each of these systems must be in balance with the others.
Additional definitions of Sustainability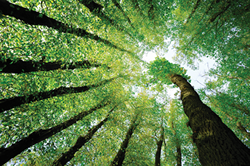 Merriam / Webster Dictionary definition of sustainable
sus•tain•able adjective \sə-ˈstā-nə-bəl\
: able to be used without being completely used up or destroyed
: involving methods that do not completely use up or destroy natural resources
: able to last or continue for a long time


USEPA
Sustainability is based on a simple principle: Everything that we need for our survival and well-being depends, either directly or indirectly, on our natural environment. Sustainability creates and maintains the conditions under which humans and nature can exist in productive harmony, that permit fulfilling the social, economic and other requirements of present and future generations.
Sustainability is important to making sure that we have and will continue to have, the water, materials, and resources to protect human health and our environment.