Barnegat Bay Blitz


Dedicated volunteers gathered in Lakehurst on May 9, 2012 for the New Jersey Department of Environmental Protection's (DEP) Second Barnegat Bay Blitz Campaign prepared to make a difference in the Lakehurst Community.

After coordinating with Councilman Steve Oglesby and Amy Lowe, of the Lakehurst Department of Public Works, it was decided that participating with DEP in the Barnegat Bay Blitz was a good idea. Councilman Ogelsby was grateful about the receiving support from members outside of the community and indicated that the event made sense environmentally, as well as, economically.

The dedicated Lakehurst Team was able to accomplish so much, because everyone pulled together and worked so diligently, in spite of the downpour. Team members were able to conduct an assessment of Lake Horicon, as well as, conduct a cleanup around the Lake and within the Lakehurst community.

On the morning of the Blitz, the Lakehurst team collected 12 bags of garbage and 6 bags of materials to be recycled, and a trash pile, including a sofa, a bicycle frame, bicycle tires, a speed limit sign, an alternator, used oil, and several other items. Meanwhile, the lake assessment conducted an analysis of the overall health of the lake, and spotted all sorts of flora and fauna, including a turtle, frog, and a family of ducks.

On the evening of the Blitz, Eva Richardson, of Harmony Ministries, led 10 young people to clean Chestnut and Manapaqua Streets. Their Youth Group was able to successfully collect 2 1/2 bags of recycled material and 3 bags of garbage. Ms. Richardson, the Pioneers Group Leader, expressed how excited they were to participate, and weaved the cleanup into a teaching lesson, showing them how to be good stewards of the environment. Maria Claussen and Pastor Alston, of Harmony Ministries, both thought felt that having their youth participate in the Blitz was important and were instrumental in engaging their young people in the event.

During the Barnegat Bay Blitz's Wrap-up Session, Commissioner Martin was very enthusiastic about the strong support received from the DEP staff and Community Volunteers and he also felt that the Blitz was a huge success and is looking forward to the next Blitz campaign in October.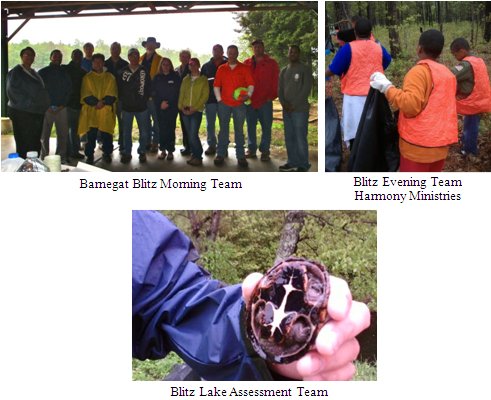 October 19, 2011 Blitz Recap:
I would like to thank the Harmony Ministries, USA Inc., the Lakehurst Dept. of Public Works, and the students, teachers and Principal of the Lakehurst Elementary School for their participation in the days events.