Barnegat Bay Blitz


May 9, 2012: We had another very successful cleanup for our second ever Barnegat Bay Blitz in Little Egg Harbor Township, despite the awful weather (which was quite possibly even worse than it was for the first cleanup). Pinelands Regional Middle School had the right idea by waiting a couple of days for better weather for their cleanup!

Our cleanup at Otis Bog Rd. and Center St. was a repeat of last time, where we once again came across enormous amounts of illegal dumping. We removed large quantities of smashed televisions, tires, furniture and construction debris. We managed to haul a hot tub and a jet ski out of a small lake. We once again filled an entire 30 yd. dumpster with debris!

For this Blitz, we also had 2 volunteers that braved driving rain to clean up the entire length of Great Bay Blvd, where they discovered a huge tank that they hauled across the marsh and onto the street! Pinelands Regional Middle School was also a new participant and they collected a surprising amount of trash on their school grounds, including rusty mattress springs, tires and impressive numbers of plastic bags and bottles.

A very BIG thank you to all who were involved in this effort, including: the township of LEH, the public works department, all of the DEP volunteers, Bill Murphy of LEH, Ben Wurst of the Conserve Wildlife Foundation of NJ and the teachers and students of the Pinelands Middle School. You all worked very hard and should be very proud of yourselves!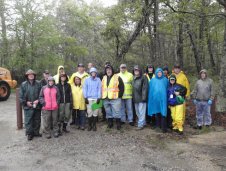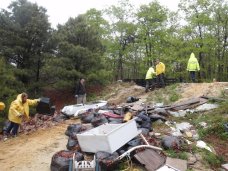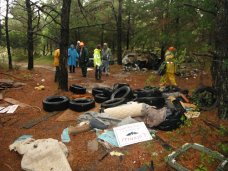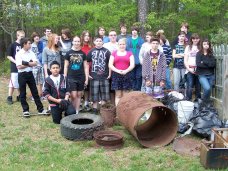 October 19, 2011 Blitz Recap:
Thank you to all of the fearless volunteers that came out and braved the weather for the Little Egg Harbor clean up. It was an enormous success which would not have been possible without the partcipation of the LEH Public Works Department, the residents of LEH and a number of NJDEP employees as well as one of our NJ Watershed Ambassadors.

We discovered a veritable illegal dump site at Otis Bog Rd. and Center St. and we filled an entire dumpster with all sorts of debris. Among the finds were countless smashed televisions, bicycles, mattresses, tires, and even a hot tub, toilet and sink.

We ended up soaked and covered in mud, which only added to feeling of adventure! It was a memorable clean up!