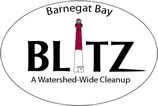 The Barnegat Bay Blitz Rain Barrel Challenge


North Dover Elementary School Takes the Rain Barrel Challenge by Storm
The fifth grade class at North Dover Elementary School that designed the winning rain barrel, along with faculty, parents and School Principal Colleen McGrath, attended the April 25 Barnegat Bay Blitz at Cattus Island County Park in Toms River to display their barrel and help kick off the Blitz. The class received a certificate of recognition from DEP Commissioner Bob Martin and enthusiastic applause from dozens of cleanup volunteers, sponsors and partners, media, government officials and other rain barrel contestants. The school will also host a Water Festival later this spring which is the prize for winning the Challenge; it is being coordinated by DEP.

Fifth grade teacher Rosa Fisher and art teacher Shelby Hand worked with Ms. Fisher's fifth-graders to design the North Dover Elementary School's rain barrel. The group began by discussing and researching the theme for this year's challenge - Barnegat Bay's harvestable food sources and recreational resources. According to Ms. Fisher, "The students used reference books, texts and online sources to make their drawings as realistic as possible. They chose to focus on shoreline and woodland wildlife that live in Toms River and at Island Beach State Park, which is near Toms River."

Lessons and essays about the water cycle, marine ecology, water conservation and the online voting process helped to enhance the students' curriculum in science, language arts, mathematics and social studies. After their ecological designs were painted on the barrel, the class added raindrops with individual student's initials in each drop to signify how humans are part of the water cycle.

The students also created a bulletin board in the hallway that provided directions for voting in the Rain Barrel Challenge. According to Ms. Fisher and Ms. Hand, the rain barrel experience compelled the class to work together, use their artistic talents and research abilities, practice patience and determination, and solicit support from other faculty, students, families and friends.

Many of the rain barrels that competed in the Challenge will be showcased at public venues throughout the Barnegat Bay watershed this summer. When North Dover Elementary School's winning barrel is finally retired from touring it will be put to work at one of North Dover's gardens.