New Jersey's Forests and Superstorm Sandy Update

During the fall and winter months following the storm, damage assessments conducted by NJ State Forestry Services and consulting foresters revealed considerable damage to the state and private forest resource, respectively. Across New Jersey, damage ranged from full blow-down with root balls in the air, broken tops and branches to splintered boles to full stand collapse, with the greatest damage in Northern New Jersey.
Wherever feasible, efforts continue to salvage damaged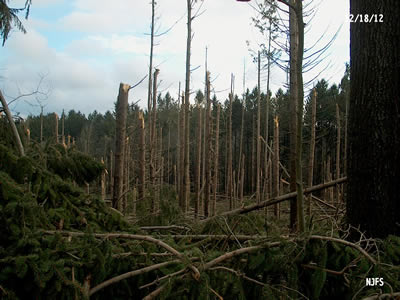 timber with portable sawmills, skidders and hand labor, and limited commercial salvage to pulpwood mills and sawmills. The forestry community, including consultants, Cooperative Extension, State, Local and Federal government agencies are all coming together to restore the damaged forestland and through forest resource planning, achieve a more resilient forest condition for the future.

On January 29, 2013, President Obama signed the Disaster Relief Appropriations Act of 2013, which among other things, appropriated $23 million for the Emergency Forest Restoration Program (EFRP). EFRP is administered by the USDA Farm Service Agency, and it is intended to restore non-industrial private forest land and resources following a qualifying disaster.
To deliver the EFRP program, state forestry agencies partner with the local Farm Service Agency offices to provide the necessary technical assistance to the forest landowners. State Forestry Agencies are reimbursed for their technical assistance through a grant relationship with the US Forest Service Northeastern Area, State and Private Forestry.
Over the next two years, more than 200 landowner applicants in New Jersey will receive technical assistance to remove the damaged woody material, prepare the sites for restoration.
Foresters are in the process of contacting landowners and performing on-site inspections in order to verify the FSA Cost-Share Request applications received to the properties site conditions. Following site inspection, the application and Needs Determination will then be agreed to or revised accordingly.
Upon SCD receipt of applications there is a 45 day period for property inspection and submittal of Needs Determination to the respective FSA office for County SCD Board approval. Landowners will be notified accordingly. The inspection by SCD foresters is to verify or recommend the appropriate restoration practice(s). The landowners then have 2 years to prepare (if applicable) and implement a plan to restore the forest component.
If you have any questions or comments, please contact Jon Klischies, Supervising Forester at jon.klischies@dep.state.nj.us or (609) 984-0827 or local Farm Services Agency: