Shaped by storm and tides, Island Beach State Park is a narrow barrier island stretching for 10 miles between the restless Atlantic Ocean and the historic Barnegat Bay. Island Beach is one of New Jersey's last significant remnants of a barrier island ecosystem that once existed along much of the coast and is also one of the few remaining undeveloped barrier beaches on the north Atlantic coast. Over 3,000 acres and 10 miles of coastal dunes remain almost untouched since Henry Hudson first described New Jersey's coast from the ship, the Half Moon, in 1609.
Miles of sand dunes and white sandy beaches offer habitat to maritime plants and diverse wildlife that is almost the same as it was thousands of years ago. Island Beach contains outstanding examples of plant communities such as primary dunes, thicket, freshwater wetlands, maritime forest and tidal marshes. The state's largest osprey colony calls our park home and they welcome a wide variety of visiting birds including peregrine falcons, wading birds, shorebirds, waterfowl and migrating songbirds. Island Beach is nationally known as a unique resource with over 400 plants identified, including the largest expanses of beach heather in New Jersey.
Through the Carry-In/Carry-Out Program you can help us keep your parks clean and beautiful by carrying out the trash you carry in. Bags are provided throughout the site. Thank you for your cooperation and remember to recycle.
Access for Persons with Disabilities

Island Beach State Park facilities are partially accessible for people with disabilities. The Fisherman's Walkway is a boardwalk that provides access to both the ocean and bay at parking Area 7. Beach wheelchairs for the ocean swimming area and beach wheelchairs that have been specially fitted for surf fishing are available at the pavilions during the swimming season and at the park office during the remainder of the year. Contact the park office for further information regarding disability access. Text telephone (TT) users, call the New Jersey Relay Service at (800) 852-7899.
Park Hours: Daily 8 a.m. to 8 p.m.
Office Hours: Daily 8 a.m. to 4:30 p.m.
Beach Cam on OBA-1 courtersy of The Friends of Island Beach State Park
TEMPORARY MOBILE SPORT FISHING VEHICLE ADVISORY
Visit the "original" Jersey Shore, untouched and unspoiled - Island Beach State Park as featured on WNEP Home and Backyard show
| | |
| --- | --- |
| | |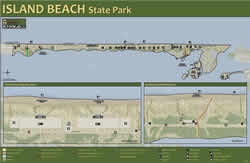 Island Beach State Park A-7/Southern Swimming Area Questions and Answers

"Why is a $3 fee being assessed for boater access at Island Beach State Park?"

This fee promotes public safety in the A-7 section of Island Beach State Park by providing a guarded beach in this section of the Park. In years past, the beach in this area has not been protected by lifeguards, yet lifeguards assigned to other beaches have had to leave their posts to perform rescues of swimmers in distress at or near A-7. To keep the swimmers safe at this popular location, the State Park Service has decided to provide a lifeguard service.

The modest $3 fee will cover the cost of providing this service, as well as other amenities, to visitors to this part of Island Beach State Park. The many people who anchor their boats at Tices Shoal and cross over Fisherman's Walkway at A-7 to the ocean to swim will now be afforded the full protection that our lifeguards provide.

"Why do we need lifeguards?"

Lifeguards will protect those who swim in the newly designated swimming area in the A-7 area of the park, which has become increasingly popular over the years. Unfortunately, many people disregard the signs stating swimming in unguarded portions of the beach is illegal and unsafe. Distress calls from unguarded sections happen frequently at Island Beach State Park. When guards respond outside the permitted bathing areas, resources and equipment at the bathing areas are compromised. Lifeguards, State Park Police, Good Samaritans and emergency responders from neighboring rescue squads are also put at risk. The establishment of this new bathing area will allow visitors from Tices Shoal to safely swim at Island Beach State Park without compromising safety at the other bathing areas.

"Hasn't entry from across the A-7 walkway always been free?"

The A-7 walkway has never been an official pedestrian access area into the Park. The walkway was constructed for fishing access to the ocean side, notably for those who have limited mobility. The bayside walkway was constructed for park visitors to access the bay. However, over time, the walkways became heavily utilized by boaters from Tices Shoal. The Department supports public access and our intent with this plan is to enhance public access by creating a lifeguarded swimming area and legitimizing the access point.

"Why charge a walk-in fee at Tices Shoal, but not at the main gate?"

The fee is being established because a new lifeguard service is being offered for those entering via boat or watercraft at Fishermen's Walkway. Walk-in visitors at the gatehouse are more than 3 miles from a swimming pavilion and more than 4 miles from the Tices Shoal area. For the most part, these pedestrians, runners and bikers are not using the services provided by the Park. As there are no additional services planned for the gatehouse area for walk-in visitors, State Park Service does not feel it is appropriate to establish a new fee at this time at the gatehouse.

"Why charge boaters, who incur the expense of operating boats?"

Boaters will not be charged for visiting Tices Shoal. Only boaters who leave their boats and go to the newly established, protected swimming area will be charged. All other persons who enter Island Beach State Park by car, truck or motorcycle are paying a fee. The fee may be a Park Pass, Mobile Sportfishing Permit, or a daily parking fee. All of these visitors pay for the services the Park offers. Increasing services in this area will have positive impacts throughout the Park.

The fee is consistent with existing walk-in fees at other State Parks.

"When will the fee be charged?"

The walk-in fee will only be collected when lifeguards are on duty. The area will be guarded, weather permitting, from 10 a.m. through 6 p.m. from late June through late August. There will be no fee collected and swimming will not be permitted from 6 p.m. through 10 a.m.

"How will the fee be collected?"

The Park will have Walk-In Park Passes available for sale at the Island Beach State Park Gate House to be purchased in advance of visiting the Fishermen's Walkway. Those without a Park Pass will be charged $3 per person daily. Cash and Credit Cards will be accepted at the kiosk located at Fisherman's Walkway.

"Can I bring my pet on the beach at A-7?"

Yes, Visitors can access the beach at A-7 with their pets as long as they are held on a leash, maximum length, six feet and you must clean up after your pet. Pets cannot be in the immediate swimming area.

"Why not have season passes for boaters?"

Season passes are available for boaters who wish to enter the swimming area from Tices Shoal. A Walk-In Pass is available for purchase and use at Fisherman's Walkway. The passes are sold at the Island Beach Gatehouse in the off-season which is open 24 hours a day, 7 days a week. Between the last weekend in June and Labor Day, the passes are also available at the toll both access from Tices Shoal. The pass is $50 ($75 for Non-residents) for the year and will allow up to six (6) walk in visitors per day. The pass will be laminated in plastic so it can be affixed to a key chain. Please call 732-793-0506 with any questions.

"Will NJ State Park Service Senior and Disability Passes be accepted to enter the new swimming area at A7?"

Yes. The pass holder and up to five additional walk-in visitors will be admitted without an additional fee upon presentation of the pass to the attendant at Fisherman's Walkway.

"What other services is the fee supporting?"

Aside from lifeguards, the Park operates and maintains existing restrooms at adjacent A-6. The Park keeps the bathrooms clean and free of trash. Although the Park is a "carry in/carry out" facility, the Park removes trash from the beach on a daily basis.

"What are the other benefits to having a designated swimming area at A7?"

The walkways were constructed for fishing access. Over the years, as use of the area has increased, conflicts between swimmers and fishermen have also increased, especially in the summer season. By establishing the bathing area, delineating a fishing area, and having a staff presence, we are confident that potential conflicts will be minimized and all visitors may enjoy the Park.

"Where will the money go?"

All revenue collected by the State Park, including the newly established fee, is deposited into the State Treasury. Those funds will be used to purchase equipment and pay for the staff for the new operation.

"Are boats or watercrafts being charged to dock at Tices Shoal?"

The State Park Service does not regulate the Tices Shoal Area of Barnegat Bay. The area is "State-Owned Riparian Land" and is open to public access in accordance with the Public Trust Doctrine. Any suggestion that "boats will be charged at Tices Shoal" by Island Beach State Park is not accurate.

"Won't boaters simply try to use other unauthorized access points or create new trails to enter the Park?"

Access to the Park is only allowed at authorized access points. Other possible unauthorized access areas are difficult to traverse, with thick undergrowth of poison ivy and other vines and a large population of ticks. People who attempt to avoid the fee by entering through these unauthorized access areas are subject to immediate removal from the Park and may be assessed monetary penalties. As throughout the State Park system, protection of its natural resources, including vegetation and the dune system, is a priority.

"Alcoholic beverages are not permitted"
A $3 walk-in fee (free for children under 3-years old) will be assessed for those who enter the park at Fisherman's Walkway adjacent to Tices Shoal while lifeguards are on duty. Access to the park by boat is only permitted at the Fisherman's Walkway bayside access.
The State Park Service is pleased to announce that Island Beach State Park will be opening earlier through the off-season for all our park visitors including birders, hikers, beach walkers and those who may just want to watch the sun rise! From November 1 through April 30th the park will be open from dawn to dusk for all to enjoy. The Park opening time will revert to 8:00 am on May 1st.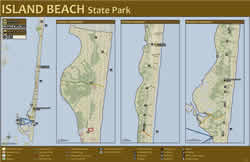 Island Beach Trails Map (PDF file 1MB)
The Island Beach State Park Discovery Trails System provides a self-guided experience through the nine plant communities of a barrier island. Wayside exhibits located along each trail interpret the natural and cultural stories of the park. There are a total of 8 trails, each under one mile. For a copy of the Discovery Trails brochure and map, please contact the Park Office.
Horseback riding is permitted at Island Beach State Park from October 1 through April 30. There are six miles of ocean beach in the southern and central portions of the park available for equestrian use and a parking area is designated for horse trailers during this time period. Reservations are required by contacting the park office at (732) 793-0506.
Ten miles of pure white sand beach attract swimmers, sunbathers, anglers and surfers. Modern bathhouses, beach access ramps, a mile of beach with lifeguards, historic buildings, trails, interpretive programs, bike paths and facilities for people with disabilities combine to make Island Beach a unique place to explore.
The bayside of the island is a nutrient-rich feeding ground for birds, fish and other wildlife. Naturalist guided canoe and kayak tours during the summer months take participants through the Sedge Islands where they can observe a wide variety of wildlife, including nesting ospreys, falcons and wading birds. Bird observation blinds give visitors the opportunity to view the wildlife in this very important habitat.
Island Beach Northern Natural Area (659 acres) and Southern Natural Area (1,237 acres)
Together, these two natural areas encompass one of the few remaining undeveloped barrier beaches in the northeast United States. Rolling sand dunes, salt-sculptured vegetation, lush green salt marshes, and nine plant communities including a nationally significant maritime forest characterize Island Beach. The federally threatened piping plover is an occasional inhabitant of the open beaches and dunes. Access to portions of the Northern Natural Area is restricted.
Special Use Permit Application
Please note: Special use permits are subject to review and approval by the park.
Special Use Permit Application Package
A Special Use Permit is utilized to accommodate a specific activity or event being conducted over a short duration. There are two types of special use permits: Non-Commercial and Commercial and fees are based on NJ residency and Non-residents. A completed application must be submitted to the park/forest area where the activity or event is being held at least 90 days prior to the event. If the special use or event is extremely large or complex, at least one-year's prior notice is recommended.
Island Beach State Park is well known by New Jersey's saltwater anglers for excellent surf fishing for striped bass and bluefish. Other species include summer flounder and weakfish. During the appropriate season, fishing for tautog along the north jetty of Barnegat Inlet is especially rewarding. Bait and fishing information may be obtained at local tackle dealers before entering the park. Saltwater fishing is subject to New Jersey Division of Fish and Wildlife and State Park Service regulations. Information regarding saltwater fishing regulations can be found in the Fish and Wildlife Digest, which is available at local tackle dealers.

Access to fishing in the park is open 24 hours a day.
Mobile Sportfishing Vehicle permits to operate 4-wheel drive vehicles on the fishing beaches may be obtained at the Park's Visitor Contact Station at the entrance gate.
New Jersey Resident $75.00

Non-Resident $90.00

3-Day Permit

New Jersey Resident $195.00

Non-Resident $225.00

Annual Permit
Replacement Fee $25.00
Annual Permit
Issued decal should be treated as cash. It will not be replaced if lost or stolen.
The SPS will continue to offer a replacement decal for $25, only upon presentation of paid receipt and the old decal, regardless of the condition.
The MSFV Permit:
Will be issued only to the registered owner of the vehicle – the name on the license and registration must be the same.
Leased vehicles must bring their lease paperwork.
Company owned vehicles must show proof of ownership. A business card will be accepted, as long as it states "owner" or "president".
All documents must have a current, valid date.
You must apply for the MSFV Permit in person at the Island Beach gatehouse. You will be asked to present original vehicle registration, driver license and lease documents.
MANDATORY EQUIPMENT FOR A MOBILE SPORTFISHING VEHICLE (MSFV)
Permits are issued to 4-wheel drive vehicle owners for fishing purposes only. Carrying the basic equipment listed is required whenever the MSFV is on the beach.
1) Fishing equipment and bait and tackle for each person over 12 years of age;
2) Tire gauge;
3) Spare tire;
4) Workable jack and board/support for jack in sand (3/4 in. x 12 x 12 in. plywood square minimum size)
5) Tow chain or snatch line;
6) Shovel;
7) Flashlight;
8) Fire extinguisher;
9) Auto first aid kit;
10) Litter/trash bag;
11) Minimum of 1/4 tank of fuel.
A current tide chart is highly recommended. Jumper cables for the vehicle's specific battery type are also recommended.

Approximately one mile of designated ocean bathing beach is located in the central portion of the park. During the period from mid-June through Labor Day, this bathing beach is staffed with lifeguards who are trained in ocean lifesaving and first aid techniques. Nearby are parking areas and bathhouse pavilions with changing areas, first aid stations, and concessions.
Personal Flotation Devices are not permitted to be used in the Ocean Bathing Areas.
A new lifeguarded swimming area will be open this summer season near A-7, north of the Fisherman's Walkway access point. A $3 walk-in fee (free for children under 3 years old) will be assessed for those who enter the park at Fisherman's Walkway adjacent to Tices Shoal while lifeguards are on duty.
Although tables and grills are not available in the park, visitors may enjoy picnicking on the ocean beach. Grills may be used on the beach south of the designated bathing area. Fires must be at least 50 feet east of the dunes, and picnickers are required to extinguish their fires before leaving the area. Island Beach State Park requires visitors to "Carry In/Carry Out" their garbage.
Bicycling and Horseback Riding
A designated bicycle path is located along more than 8 miles of the main road. Six miles of ocean beach in the southern and central portions of the park are available for equestrian use from October 1 through April 30. A parking area is designated for horse trailers during this time period. There are no horse rental facilities in or near the park. Please contact the park office for further information.
From Memorial Day Weekend through the first of October, pets are not permitted on the Ocean Swimming Beaches (lifeguarded areas). Pets are permitted South of the Ocean Swimming Areas during this time period but must be held on a leash (maximum length - 6 feet) and you must clean up after your pet. Pets are not permitted on the Spizzle Creek Bird Blind Trail at any time.
Portions of the ocean beach at the extreme southern end of the designated bathing area have been set aside for sailboarding and surfing. For further information, please contact the Park Office.
Scuba diving and underwater fishing are permitted along 2.5 miles of ocean beach just north of Barnegat Inlet. Scuba divers must register at the park office just prior to their first dive each year. Proof of current diving certification is required. Spear and underwater fishing are subject to New Jersey Division of Fish and Wildlife regulations. Diving in Barnegat Inlet is permitted and subject to New Jersey Boating Commission Special Regulations.
Island Beach State Park's natural sand dune formations and relatively undisturbed vegetation create a unique outdoors experience to study a barrier island ecosystem. School groups that are interested in visiting the Park for self-guided tours must make advance reservations. For more information, please call the Park Office at (732) 793-0506.
Sedge Island Marine Conservation Zone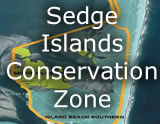 The Sedge Island Marine Conservation Zone contains approximately 1,600 acres of highly productive tidal marshes, creeks, ponds, and open water. The purpose of the Conservation Zone is to protect and interpret the wildlife resources while reducing user conflicts and maintaining the traditional uses of the area. Canoe and kayak tours are offered by Park's interpretive staff. For more information regarding the Conservation Zone, please contact the Park Office.
• Sedge Island Marine Conservation Zone Administrative Order #2014-09 (pdf)

• Map of Sedge Island Marine Conservation Zone
The Emily DeCamp Interpretive Center
The Emily DeCamp Herbarium is a collection of approximately 400 plants that have been classified and preserved, giving the public an opportunity to learn about the nine plant communities at Island Beach State Park. One of the main attractions of this herbarium is that the visiting public and scientists are able to handle and examine individual plants. Plants have been placed in a protective mount that also gives historical and factual information about the plant. The herbarium is kept at the Forked River Interpretive Center.
Two Coast Guard stations from 1901 and 1938; New Jersey's largest osprey colony. Excellent location to study barrier island plants, see a red fox or observe migrating birds in May and October. Surf chairs and ramps at Ocean Beach Area-1, Ocean Beach Area-2 and Area-7 to assist people with disabilities to fish or reach the water's edge.
State Park Service areas open to hunting
Hunting is permitted in designated areas within the park and is subject to Division of Fish and Wildlife regulations.
• New Jersey Beach Buggy Association

FAQ's (Frequently Asked Questions)
| | |
| --- | --- |
| When is the best time of year to observe migrating waterfowl? | May and October |
| When is the best time of year to go surf fishing? | Fall |
| What time of year does the Beach Heather bloom? | May |