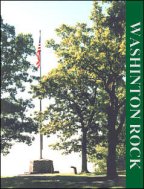 Washington Rock
State Park

Location:
Somerset County, Green Brook Township

Somerset County Park Commission
Location:
355 Milltown Road
Bridgewater, NJ 08807

Mail:
PO Box 5327
North Branch, NJ 08876

(908) 722-1200


GPS Coordinates
DMS 40° 36' 47.65" N 74° 28' 23.70" W

Size: 52 acres

Fees: No entrance fee.
Link to the Related Fees page

Directions:
Take Route 22 to Greenbrook Township to Washington Rock Road. The park is located on Washington Rock Road.

Facilities & Activities:

Picnic tables
Scenic overlook
The strategic location of Washington Rock made it a valuable lookout point during the American Revolution for General George Washington in June of 1777 when the British army under General William Howe was moving toward Westfield. From the vantage point of this natural rock outcropping, General Washington had a thirty-mile panoramic view of the valley and was able to instruct his troops to circle behind Howe's troops and cut off their retreat.
One of the oldest state parks in New Jersey, Washington Rock was originally purchased in 1913 to commemorate the historical events of 1777. Situated on top of Watchung Mountain in Green Brook Township, the park is best known for its scenic vista and historical significance. The park is a popular site for picnicking and relaxing.
Washington Rock is currently being managed by the Somerset County Park Commission. For more information contact: (908) 722-1200.
Through the Carry-In/Carry-Out Program you can help us keep your parks clean and beautiful by carrying out the trash you carry in. Bags are provided throughout the site. Thank you for your cooperation and remember to recycle.
Open daily sunrise to sunset.