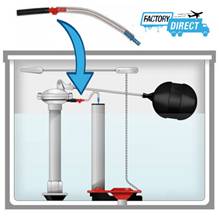 The Energy and Environmental Technology Verification (EETV) Program, by the New Jersey Legislature to help facilitate the development and use of cost effective technologies that prevent environmental pollution. The EETV engaged the non-profit New Jersey Corporation for Advanced Technologies (NJCAT) to insure that these technologies function as manufacturers claim. NJCAT performs this verification review and NJDEP certifies the beneficial environmental effect of the technology.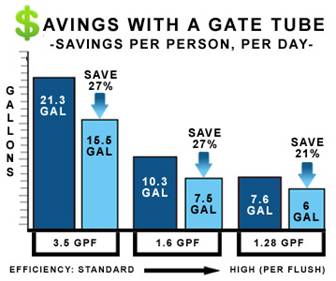 One such technology that has been certified is the Gate Tube Toilet Water Save, which was designed and been proven to save thousands of gallons of residential water use per year. On April 24, 2012 the LNS industries Inc., a New Jersey based company, was awarded Certificate of Performance in support of the water conservation appliance trademarked as the Gate Tube Toilet Water Saver.
Independent tests, in compliance with the American Society of Mechanical Engineers (ASME) Standards A11.19.2-2008/CSA B45.1-08, were performed by Stevens Institute of Technology's Center for Environmental Systems. The results showed that the Gate Tube Toilet Water Saver device saves between 7.48 – 27.4% of water on existing toilets, depending on the type of toilet. Moreover, units equipped with the Gate Tube Toilet Water Saver satisfied the performance criteria by ASME Standards.
For more information on the Gate Tube Toilet Water Saver go to http://www.gttws.com/