Four New Members Sworn in to NJ State Board of Education
For Immediate Release:
Contact: Alan Guenther, Director
Allison Kobus
Date: Wednesday, February 16, 2011
609-292-1126
Four new members of the New Jersey State Board of Education were sworn into office today during the Board's February meeting. The State Board has 13 members who are appointed by the Governor with the advice and consent of the New Jersey State Senate. These members serve without compensation for six-year terms. By law, at least three members of the State Board must be women, and no two members may be appointed from the same county.
Andrew J. Mulvihill replaces Josephine Hernandez whose term expired June 30, 2009. He is the CEO of Crystal Springs and Mountain Creek real estate division and has worked in the development and building industry for the past 25 years. He is the owner of Mountain Resort Properties. Mr. Mulvihill is the past president of the NJ Golf Club Course Owners Association, past member of the Newark Academy Board of Governors and is a founder and board member of Highlands State Bank. Mr. Mulvihill graduated from Stanford University.
Claire Chamberlain Eckert replaces Kathleen Dietz who resigned. Ms. Eckert is a trustee of the Peck School, a K - 8 Independent Day School in Morristown, NJ. From 2006-2010, she served as President of the Peck School. Formerly, she was Vice President and Director of General Services at Goldman Sachs and Co. in New York. She was the lead coordinator for Goldman Sach's partnership with Cities in Schools and was responsible for opening the Metropolitan Corporate Academy, a charter high school in Brooklyn, N.Y.. She is a graduate of Stanford University and Harvard Business School and attended Princeton Theological Seminary.
Jack Fornaro is completing the term of Frederick LaGarde who resigned. Mr. Fornaro holds a School Business Administrator certification and also has a background in law enforcement. He is a graduate of Rider University, where he holds a Master of Arts in Public Administration.
J. Peter Simon replaces Debra Casha who resigned. Mr. Simon co-founded William E. Simon and Sons, and serves as co-chairman of this "family office" and the William E. Simon Foundation. Mr. Simon serves on the Boards of Lafayette College, Morristown Memorial Health Foundation (Chair) and Covenant House New Jersey as well as Puck Holdings, which owns the New Jersey Devils. Boards he served on previously are the Alliance for School Choice, the Gladney Center, the National Council for Adoption and the Peck School.
The State Board adopts the administrative code, which sets the rules needed to implement state education law. Such rules cover the supervision and governance of the state's nearly 2,500 public schools, which serve 1.38 million students. In addition, the State Board advises on educational policies proposed by the Commissioner and confirms Department of Education staff appointments made by the Commissioner.
Photos from the swearing-in ceremony are below: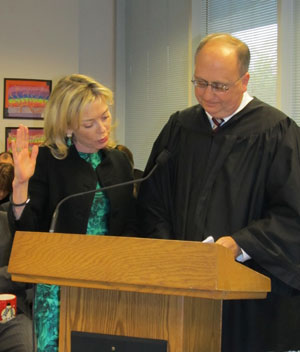 Claire Chamberlain Eckert, Somerset County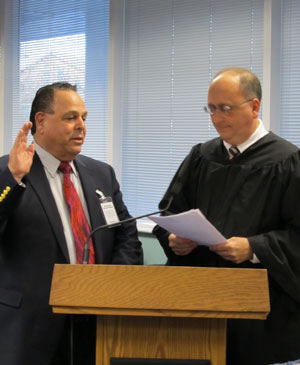 Jack A. Fornaro, Warren County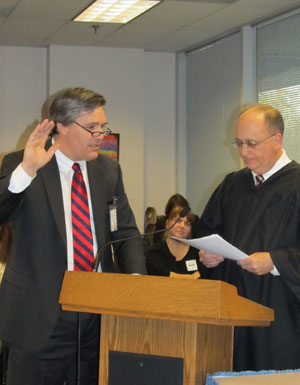 Andrew J. Mulvihill, Sussex County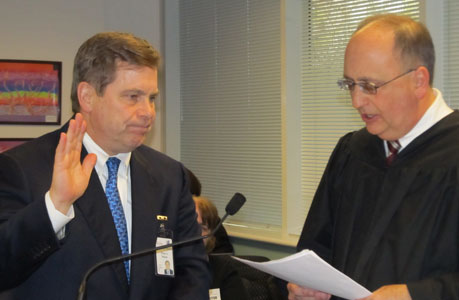 J. Peter Simon, Morris County