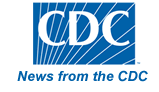 The Centers for Disease Control and Prevention (CDC) is the nation's premier public health agency — working to ensure healthy people in a healthy world.
Its mission is to create the expertise, information, and tools that people and communities need to protect their health – through health promotion, prevention of disease, injury and disability, and preparedness for new health threats.
Learn more about the CDC's mission and vision.
CDC Main Page
Visit the CDC's homepage.

Vital Signs
An important new program at CDC is called CDC Vital Signs, launched July 6, 2010. This program is a call to action each month concerning a single, important public health topic. Topics will include colorectal and breast cancer screening, obesity, alcohol and tobacco use, access to health care, HIV testing, seat belt use, cardiovascular disease, teen pregnancy and healthcare-associated infections, asthma, and foodborne disease.
CDC 24/7
CDC works 24/7 keeping America safe from health, safety and security threats, both foreign and domestic. Whether diseases start at home or abroad, are chronic or acute, curable or preventable, human error or deliberate attack, CDC fights it and supports communities and citizens to prevent it. CDC is the nation's health protection agency - saving lives, protecting people from health threats, and saving money through prevention.
CDC Newsroom
Read the latest news releases and announcements from the CDC.

CDC Outbreak List
Get the latest on infectious disease outbreaks currently being reported on by CDC. Listings include those outbreaks for which content is currently published on the CDC website.

CDC Features
CDC.gov feature articles are written by subject matter experts and health communicators, then edited to emphasize strong call-to-action messages and friendly, meaningful visuals. While most features are topic- or event-driven, some capture the full scope of CDC's work on cross-cutting topics such as staying healthy and safe over the holidays, sending kids back to school, or CDC's global programs and outreach.

CDC RSS Feeds
Stay updated with new content from the CDC. From this page you can subscribe to CDC or other US Government RSS feeds or view their contents directly on this page without having to use an aggregator.

CDC TV
Videos on health topics developed and produced by the CDC.

CDC Podcasts
Listen to/view CDC podcasts on your computer or download them for reliable health and safety information when and where you want it.