Community Outreach is an arm of the Office of Public Affairs, charged with networking across the state with local neighborhoods, community groups, professional associations and stakeholders concerned with New Jersey's most vulnerable citizens.

At conventions and conferences, Community Outreach disperses informational materials that can help citizens and communities. This gives the Department of Human Services and its many Divisions visibility among elected officials, local organizers and other decision makers.

When times are tough, Community Outreach spearheads local and statewide donation drives or works with other groups who want to help others. To contact Community Outreach about donations, partnering or contributing to such drives, or about donation efforts happening in your area, call 1-800-DHS LINE (1-800-347-5463); or e-mail: Riva.Thomas@dhs.state.nj.us.
Departmental charity drives...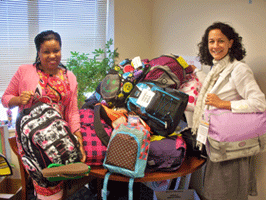 For the 2009 DHS Back to School Backpack Drive, Commissioner Jennifer Velez (right) and Community Affairs Director Riva Thomas show off some of the 55 backpacks full of school supplies and clothes, donated by DHS employees.  These items went to children of homeless families staying at HomeFront, a Mercer County social services agency. 


HomeFront followed up with the Thank You tribute seen below right: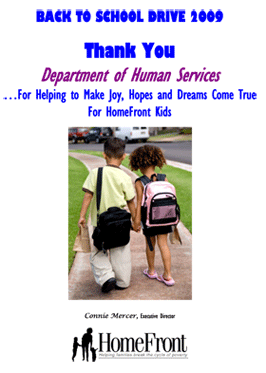 Coat, Food, Gift and Toy Drives
Over the years, DHS employees' generosity has helped make the lives of some of our state's most vulnerable citizens healthier, happier and full of hope… because we truly understand their situations. 

During tight economic times, Community Outreach also welcomes citizen input to complement state employees' efforts to help those in need.

As the 2009 winter holiday season approaches, DHS employees are again participating in the NJ State Employees Coat Drive and the State Employees Gifts for Kids Drive.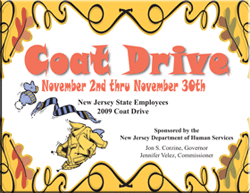 Last year more than 1,000 people were warmer thanks to coats donated by state employees.  More than 400 of those coats came from DHS. 
As the lead state agency for the drive, DHS' Office of Public Affairs' Community Outreach unit coordinated the donations and distribution of these coats to social service agencies throughout the state and is doing so again this year. 
On the heels of the 2008 coat drive was the Gifts for Kids Drive. With the drastic economic downturn affecting so many New Jersey households, state employees doubled their 2007 donations!  They donated and distributed 8,000 toys and other gifts to the homeless and children in need across the state!  Thirty-one percent of those gifts came from DHS employees, who brought in 2,500 new toys and gifts!

DHS works with agencies across the state to help fill food banks and encourage donations. 
Moving Forward...
This year, why not spend more time with your families creating birthday or various holiday memories.  Give some of those extra gifts to children in need.  Set aside some of that extra food for families who are struggling!  Remember… the greatest need is for children 10 to 17 years of age.  For your convenience, here's a list of suggested age-appropriate gift items. The gifts should be new and unwrapped.

To get involved, contact Riva Thomas, Director, Office of Community Outreach: 1-800-DHS LINE (1-800-347-5463); or e-mail:  Riva.Thomas@dhs.state.nj.us.
Internal Outreach...
On a lighter side, Community Outreach helps with internal activities within the Department which promote awareness, such as Black History Month or Take Our Daughters and Sons to Work Day (pictured below).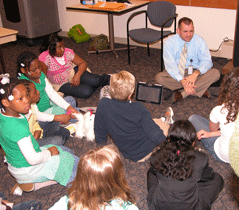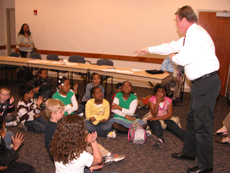 Good Neighbors, Community Living for People with Disabilities...
Good Neighbors, Community Living for People with Disabilities, is the Department's public education program to increase public awareness about people with disabilities and the kinds of community living arrangements in which they reside.

As part of this effort, DHS representatives reach out to municipal officials, private organizations and New Jersey residents to provide information and to answer their questions, in hopes to achieve broader public acceptance and accommodations for people with disabilities.