TRENTON – Department of Human Services (DHS) Deputy Commissioner Kevin Martone joined the department's Commission for the Blind and Visually Impaired (CBVI) to honor six outstanding consumers and advocates as more than 500 clients, their friends and families, participate in a special "Blind and Visually Impaired Awareness Night" with the NY Yankees' AA affiliated Trenton Thunder at Mercer County Waterfront Park, Thursday, July 16, at 6:10 pm.
DHS honored Mihir Doshi of Belle Mead, Rocco Fiorentino, Jr. of Voorhees, Anthony Gilio of Lodi (throwing out the first pitch, above right), Shafeka Hashash of  New Milford, Ottilie Lucas of Ewingville and Joseph Ruffalo Jr. of Bloomfield (seen below from left to right, between Vito DeSantis and Kevin Martone); all of whom exemplify the talent and potential of people who are blind or visually impaired.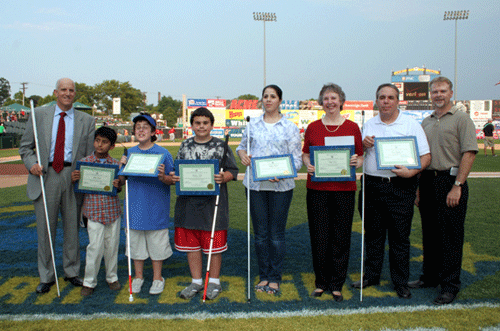 "Every one of these honorees is truly inspirational," said Deputy Commissioner Martone. "They set terrific examples for all that can be accomplished by individuals who dedicate themselves and never take 'no' for an answer."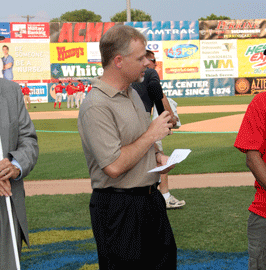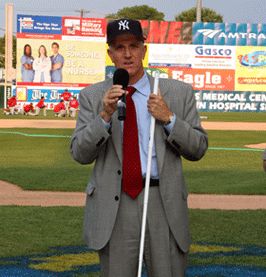 Deputy Commissioner Martone (left) and CBVI Executive Director Vito DeSantis (right) presented the honorees with certificates of achievement and congratulatory letters from Governor Jon Corzine during a pre-game ceremony on the field. The Governor praised each recipient and wrote, "Your talents and devotion are an inspiration to your peers and all New Jersey residents."
The recipients are among the more than 259,000 legally blind people living in New Jersey.
Mihir Doshi, 8, won first place in New Jersey and went on as a finalist in the National Braille Institute's Challenge for Braille users.
Rocco Fiorentino, Jr., 12, is a motivational speaker, political activist, advocate, humanitarian and accomplished Jazz musician and performer.
Anthony Gilio, 13, a middle school student, is an accomplished wrestler, and won a Braille literacy award.  
Shafeka Hashash, 16, is an award-winning artist, pianist and athlete as well as an outstanding high school student.
Ottilie Lucas, has traveled extensively, edits a newsletter and is an outstanding role model who has dedicated much of her life's work to mentoring teaching.
Joseph Ruffalo Jr., coordinates community programs for people who are blind and visually impaired, is a radio talk-show host, community-service group member with the Lions Club and Knights of Columbus, and received the Bronze Star for his service in the Vietnam War.
-30-