---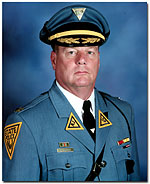 On Monday June 2, 2003, Colonel Joseph R. Fuentes was selected by Governor James McGreevey to become the 14th Superintendent of the New Jersey State Police.
Superintendent Fuentes enlisted in the State Police in January 1978, as a member of the 93A Class. He has served the Division of State Police throughout the state, including assignments as a general road duty Trooper in Central and Southern New Jersey, and an instructor at the Sea Girt Academy. He also was a supervisor with the FBI/NJSP Joint Terrorism Task Force, Narcotics Units, and the Street Gang Unit. Prior to being named Acting Superintendent, he was assigned as the Chief of the Intelligence Bureau, overseeing nine units within the Intelligence Section.
The recipient of numerous awards, Superintendent Fuentes has been recognized by the U.S. Justice Department, Drug Enforcement Administration, and in 1993 was a co-recipient of the New Jersey State Police Trooper of the Year award.
Superintendent Fuentes earned a Bachelor of Science degree from Kean College of New Jersey in 1977, a Master of Arts in Criminal Justice from John Jay College of Criminal Justice, New York in 1992, and a Doctorate of Philosophy in Criminal Justice from City University of New York in 1998.
In 2006, Colonel Fuentes was appointed to a three year term as General Chair of the State and Provincial Division of the IACP. He is a member of the U.S. Attorney General's Global Advisory Committee, a member of the Homeland Security and Law Enforcement Partners Group of the Office of the Director of National Intelligence, and an appointed member of Harvard University's Executive Session on Policing and Public Safety.
Superintendent Fuentes resides in Bergen County with his wife, Eileen.