BRIGADIER GENERAL ROBERT C. BOLTON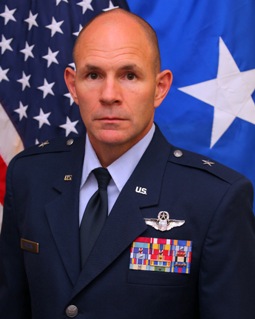 Brigadier General Robert C. Bolton is the Commander, New Jersey Air National Guard, which includes the 108th Wing at Joint Base McGuire-Dix-Lakehurst and the 177th Fighter Wing based at the Atlantic City International Airport, Egg Harbor Township.
Brigadier General Bolton was born in Norwood, Massachusetts, on December 30, 1961. He graduated from Mansfield High School, Massachusetts, in 1979. He received a 4 year ROTC Engineering scholarship from the U.S. Air Force and attended the University of Massachusetts, Amherst, MA. He was commissioned in May 1983, completed UPT in June 1984 as a distinguished graduate, and was selected to fly the F-15. In March 1988 he was assigned as a Replacement Training Unit (RTU) Instructor Pilot with the 22nd Tactical Support Training Squadron flying OV-10's at Patrick AFB, FL. The unit was relocated to Davis-Monthan AFB, AZ in March 1989 where Brigadier General Bolton remained until June 1990. He then left active duty to become an F-16 Instructor Pilot with the 177th Fighter Wing, New Jersey Air National Guard. As a technician, Brigadier General Bolton has been the Chief of Training, Weapons, and Scheduling. He was the Operations person responsible for the F-16 Air Defense Fighter (ADF), F-16C-model, and Air-to Ground conversions. He has been on all the unit's major deployments and was the Detachment Commander on two of the unit's counter-drug deployments. In March 1999 he was hired by American Airlines and became a traditional guardsman. As a traditional guardsman, he served as the Operations Support Flight Commander. When the events of 9-11 unfolded, Brigadier General Bolton stepped in as the unit's Alert Operations and Scheduling officer and flew on many of the Homeland Defense missions. From September 2003 through January 2006 he served as the unit's Alert Detachment Commander. In February 2006, he deployed to "Operation Iraqi Freedom" as the unit's Assistant Operations Officer. In August 2007, he was appointed as the Operations Group Commander. In February 2009 he was selected as the Wing Commander. He has served as the Commander of U.S. Air Forces in Jordan two years in a row (2010 and 2011) for Eager Tiger, a multi-national joint force exercise.
EDUCATION:
1983 Bachelor of Science in Mechanical Engineering, University of Massachusetts
1988 Squadron Officer School in Residence
1998 Air Command and Staff College (correspondence)
2006 Air War College (correspondence)
ASSIGNMENTS:
July 1983 - June 1984, Student, Undergraduate Pilot Training, 47th Flying Training Wing, Laughlin Air Force Base, Texas
June 1984 - October 1984, Student, Fighter Lead-In Training, 479th Tactical Training Wing, Holloman Air Force Base, New Mexico
October 1984 - March 1985, Student, F-15, United States Air Force Operational Training Course, Luke Air Force Base, Arizona
March 1985 - July 1987, Aircraft Commander, F-15, 27th Tactical Fighter Squadron, Langley Air Force Base, Virginia
July 1987 - December 1987, Student, Pilot Training, OV-10, 549th Tactical Air Support Training Squadron, Patrick Air Force Base, Florida
December 1987 - May 1988, Chief Weapons, 549th Tactical Air Support Training Squadron, Patrick Air Force Base, Florida
May 1988 - July 1988, Student, Squadron Officer School, Maxwell Air Force Base, Alabama
July 1988 - July 1989, Instructor Pilot, OV-10, 22nd Tactical Air Support Training Squadron, Davis-Monthan Air Force Base, Arizona
July 1989 - June 1990, Standardization and Evaluation Flight Examiner, OV-10, 602nd Tactical Air Control Wing, Davis-Monthan Air Force Base, Arizona
June 1990 - March 1991, Pilot, F-16, 177th Fighter Interceptor Group, Pleasantville, New Jersey
March 1991 - December 1992, Instructor Pilot, F-16, 119th Fighter Squadron, Pleasantville, New Jersey
January 1993 - December 1993, Officer-In-Charge, Weapons and Tactics, 177th Fighter Group, Pleasantville, New Jersey
January 1994 - December 1997, Officer-In-Charge, Weapons and Tactics, 177th Operations Support Flight, Egg Harbor Township, New Jersey
January 1998 - August 1998, Assistant Deputy Operations Officer, 119th Fighter Squadron, Egg Harbor Township, New Jersey
August 1998 - August 2000, Pilot, F-16, 177th Fighter Wing, Egg Harbor Township, New Jersey
August 2000 - April 2001, Assistant Director of Operations, 177th Fighter Wing, Egg Harbor Township, New Jersey
May 2001 - April 2004, Assistant Deputy Director of Operations, 119th Fighter Squadron, Atlantic City, New Jersey
May 2004 - October 2005, Detachment Commander, 177th Operations Group, Atlantic City, New Jersey
October 2005 - September 2006, Assistant Deputy Director of Operations, 119th Fighter Squadron, Atlantic City, New Jersey
September 2006 - February 2009, Operations Group Commander, 177th Operations Support Flight, Egg Harbor Township, New Jersey
February 2009 - May 2012, Wing Commander, 177th Fighter Wing, Egg Harbor Township, New Jersey
May 2012 - Present, Chief of Staff, New Jersey Air National Guard, Joint Base McGuire-Dix-Lakehurst, New Jersey
FLIGHT INFORMATION:
Rating: Command Pilot
Flight Hours: 5,700
Instructor Hours: 1,600
Aircraft Flown: T-37, T-38, OV-10, F-15A/B/C/D, F-16A/B/C/D, MD-80, Boeing 777/767/757
MAJOR AWARDS AND DECORATIONS:
Laughlin AFB UPT Class 84-06 Distinguished Graduate
1989 Tactical Air Command Instructor Pilot of the Year
1992 177FW Company Grade Officer of the Year
Legion of Merit
Meritorious Service Medal
Air Medal
Aerial Achievement Medal
Air Force Commendation Medal Air Force Achievement Medal with 1 Silver Oak Leaf Cluster
Air Force Outstanding Unit Award with 1 Bronze Oak Leaf Cluster
Combat Readiness Medal with 3 Bronze Oak Leaf Clusters
Air Reserve Forces Meritorious Service Medal with 1 Silver / 1 Bronze Oak Leaf Cluster
National Defense Service Medal with 1 Bronze Star
Iraq Campaign Medal
Global War on Terrorism Service Medal
Air Force Expeditionary Service Ribbon with Gold Border
AF Longevity Service with 4 Bronze Oak Leaf Clusters
Armed Forces Reserve Medal with M device and Hour Glass
Small Arms Expert Marksmanship Ribbon with 1 Bronze Star
Air Force Training Ribbon
New Jersey Ribbon of Honor with 2 Bronze Oak Leaf Clusters
New Jersey Merit Award Ribbon with 21 Devices
New Jersey Desert Storm Support Ribbon
New Jersey Unit Strength Award Ribbon
EFFECTIVE DATES OF PROMOTION:
Second Lieutenant 16 June 1983
First Lieutenant 16 June 1985
Captain 16 June 1987
Major 26 August 1994
Lieutenant Colonel 24 November 1998
Colonel 28 September 2007
Brigadier General 23 May 2013

(Current as of September 2013)