Car Stop Nets Handgun and Large Stash of Drugs
Millville City, N.J. - Trooper Robert Wharton was on patrol in a residential neighborhood in Millville City when he stopped a red Mercury Grand Marquis for a non-moving traffic violation. The traffic stop turned into a criminal investigation that led to the arrest of Charles McCoy, 29, of Millville, N.J., and the seizure of a loaded handgun and a stash of drugs and drug paraphernalia.
Trooper Wharton stopped McCoy on July 10, at approximately 8:19 p.m., near the entrance of an apartment complex. While Trooper Wharton was speaking with McCoy, he smelled the odor of marijuana coming from inside the vehicle. Further investigation led to the arrest of McCoy, and a search of his vehicle. As a result of the search, the following was seized as evidence:
1 pound of marijuana
3 ounces of cocaine
3 ounces of PCP
21 grams of hashish
1 semi-automatic handgun
1 loaded magazine
1 digital scale
While McCoy was being processed at Port Norris Station, Trooper Wharton learned that the handgun was reported stolen from South Carolina. McCoy was charged with Possession of a Controlled Dangerous Substance (3 counts), Manufacturing or Distributing, Possession with Intent to Use, Distribution Within 1000' of a School, Receiving Stolen Property, and multiple weapons charges with additional charges pending. He was lodged at the Cumberland County Jail in lieu of $100,000 with 10% bail set.
Click image for larger view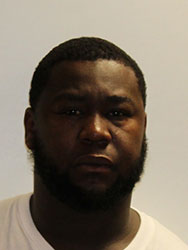 Charles McCoy, 29, of Millville, N.J.
# # #
Follow the New Jersey State Police online at Twitter and Facebook. The social media links provided are for reference only. The New Jersey State Police do not endorse any non-governmental websites, companies or applications.
For additional information visit our website at www.njsp.org.