Arrest Made In Fatal Turnpike Crash
Carlstadt Borough, N.J. - The New Jersey State Police, working in cooperation with the Bergen County Prosecutor's Office, have arrested Henry Flores, 55, of Union City, N.J., as a result of an on-going investigation into a fatal crash that occurred on the New Jersey Turnpike.
Yesterday, troopers arrested Flores at his residence in Union City without incident. He was charged with Vehicular Homicide (2nd Degree) and Hindering Apprehension (3rd Degree). In addition, he was issued motor vehicle summonses for Reckless driving and Improper Use of a Cellular Phone.
The accident occurred on Monday, June 9, at approximately 4:55 p.m., in the southbound lanes of the New Jersey Turnpike at milepost 114.6. Detectives have determined that Flores, who was driving a 1996 Kenworth tractor-trailer, was using a cellular phone at the time of the accident.
Flores was traveling in the left lane when he failed to slow down and crashed into the vehicle in front of him that was slowing with traffic. The initial impact caused a chain-reaction crash that involved several vehicles. Several people were injured as a result of the crash, and Jeffrey Humphrey, 43, of Harrison, N.J., was pronounced deceased at the scene.
"All drivers must understand that illegally talking or texting while driving can have tragic results," said Bergen County Prosecutor John L. Molinelli. "For everyone's safety on the road, distracted driving will not be tolerated by law enforcement."
Flores was lodged in the Bergen County Jail in lieu of $50,000 full cash bail.
Charges are merely accusations and the suspect is considered innocent until proven guilty.
Click image for larger view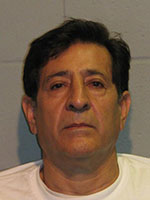 Henry Flores, 55, of Union City, N.J.
# # #
Follow the New Jersey State Police online at Twitter and Facebook. The social media links provided are for reference only. The New Jersey State Police do not endorse any non-governmental websites, companies or applications.
For additional information visit our website at www.njsp.org.