County Government Records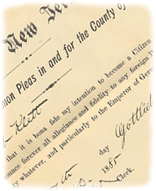 Union County Declaration
of Intention, 1885.
Regular filings in the Clerks' Offices include deeds, mortgages, early marriage returns (1795-1878), tavern licenses, etc. In some counties, deeds and mortgages are filed by a County Register of Deeds.
Naturalizations prior to 1948 were granted by the former Courts of Common Pleas and by other courts. Probate and estate-administration filings, guardianship and adoption records, and minutes of the Orphans Courts are filed in the Surrogate's Offices.
Place-Name Resources
Local Place Names - searchable version of the Department of Transportation's directory of modern place names in New Jersey. Users should note that many historical place names are not included.
County Records grouped by Subject (includes some municipal records)
Holdings by County