Art All Day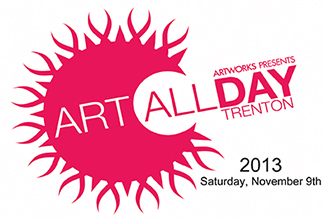 Saturday, November 9, 2013
Visit the New Jersey State Museum to see nationally-renowned realist painter, Trenton's own Mel Leipzig, working on a new painting on-site in the Museum's 2nd floor fine art galleries. Mr. Leipzig will be working from noon to 4 pm.
At 2 pm, join the Museum's Curator of Fine Art Margaret O'Reilly on a gallery walk through the galleries housing "American Perspectives: The Fine Art Collection." This installation highlights the diversity of voices and visions found in 19th through 21st century American art. This extraordinary collection features many of the artists most important to the development of an American art aesthetic.
Also on view is, "Dahlia Elsayed: Hither and Yon," a new exhibition in the New Jersey Artist Series. Born in 1969 in New York, Dahlia Elsayed lives in Palisades Park and works from her Newark studio. The exhibit presents work created over the past decade. Writing and painting are important processes for Dahlia Elsayed, coming in part from her background in writing, as well as an interest in the relationship between language and image. For over a decade, she has been making paintings and installation that synthesize an internal and external experience of place, connecting the topographical with the psychological. Visually, the work pulls from conceptual art, comics, cartography and landscape painting and employs symbols of hard data- text, geologic forms, geographic borders, signs/markers, coastlines, tide schedules.
Elsayed's interest in this type of work is personal: for three generations her family has moved from continent to continent due to political and religious persecution. This has fostered a deep curiosity into how story shapes a landscape, and its inverse, how landscape takes a mythic form in narrative.
Museum General Admission is free for Art All Day