Current Exhibitions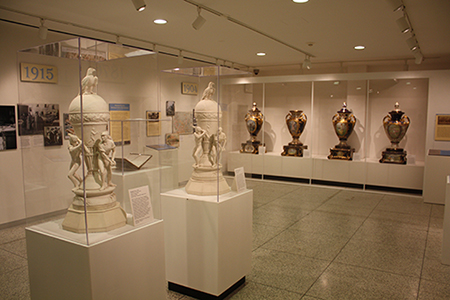 New Jersey
on Display:
World's Fairs and the Garden State
Now Through
January 4, 2015
The exhibit features the stories of pioneering entrepreneurs such as Thomas Edison, the Roebling Family, and David Sarnoff, who promoted their products at world's fairs, as well as political innovators, including Alice Paul, who used the world's fair phenomenon as a platform to earn women the right to vote. The exhibition was developed as part of this year's celebration of New Jersey's 350th birthday; the anniversary of the English land grant creating "New Jersey." The state is celebrating with the themes of Innovation, Diversity and Liberty.
At world's fairs, New Jersey also promoted itself as an innovator in the decorative arts. The exhibition is the first to reunite four stellar examples of New Jersey's ceramic arts – the monumental porcelain vases created by the Trenton Pottery company for the Saint Louis World's Fair – all designed, fired, painted, glazed, and gilded in New Jersey. After the fair ended, the vases became separated and one, the Woodland Vase, went missing and was presumed lost for 107 years.
The exhibition also features light-hearted world's fair trivia, such as who really invented the "Ferris" wheel, the discovery of the ice cream cone, and the origin of Hires Root Beer – all of which are connected to the Garden State.