Current Exhibitions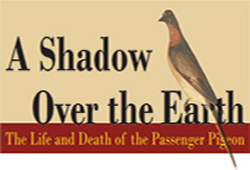 A Shadow Over The Earth:
The Life & Death of the Passenger Pigeon
On view through August 30, 2015
Main Floor of the Museum
The New Jersey State Museum is proud to present "A Shadow Over the Earth: The Life and Death of the Passenger Pigeon." It commemorates the 100th anniversary of the death of Martha, the very last passenger pigeon in the world, who died on September 1st, 1914.
The story of the passenger pigeon, a species that once numbered in the billions, is a cautionary tale of how we impact the earth and what we can do to steward the planet that sustains us. Within a span of only four decades, they were effectively wiped out, entirely by human hands.
The exhibit introduces visitors to the passenger pigeon, explores the causes that led to its extinction, and the parallels to current species that are endangered. Children will enjoy making an origami bird, a beak identification activity, silhouette cut outs and instructions for a make-at-home bird house.
The exhibit goal is to promote habitat preservation and species conservation; explore how human activity impacts other species, and motivate people to take actions that both promote biodiversity and prevent human-caused extinctions.