Contact The NJ State Museum
Mailing Address:
NJ State Museum
PO Box 530
Trenton, NJ 08625
Museum & Auditorium Galleries:
205 West State Street
Trenton, NJ
Tel: (609) 292-6464 (recorded message)
Email:
Feedback@sos.nj.gov
ISPH 2017 - CLOSING RECEPTION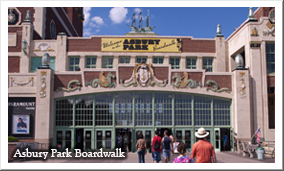 Asbury Park
We couldn't host ISPH in New Jersey without visiting the famous Jersey shore! After the scientific sessions are over on Wednesday, July 12, we will board our buses and go directly from the New Jersey State Museum to the historic shore town of Asbury Park. A wildly popular New York City and Philadelphia summer vacation destination since the late 1800s until its decline in the early 1970s, Asbury Park has undergone a successful cultural, political, and economic revival that started in 2002.
The town was ranked the sixth-best beach in New Jersey in the 2008 Top 10 Beaches Contest sponsored by the New Jersey Marine Sciences Consortium, and continues to grow in popularity. It will provide us with the boardwalk experience without the usual overcrowding of other shore towns. Bring your bathing suit and enjoy the beach before dinner at Tim McLoone's Supper Club.
Besides the boardwalk and historic buildings nearby, Asbury Park is also well-known for being the site of Bruce Springsteen's early career, and home of The Stone Pony, a local bar that has acted as a launch pad for many American music legends, including the aforementioned Bruce Springsteen and the E. Street Band, as well as other New Jersey natives like Jon Bon Jovi, and Southside Johnny and the Asbury Jukes. Bruce Springsteen is known to still drop in, unannounced, to sing a song or two.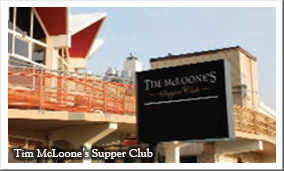 Dinner Venue:
Tim McLoone's Supper Club
Supper clubs became popular during the 1930s and 1940s in the USA, although some establishments that later became supper clubs had previously gained notoriety as prohibition roadhouses. Traditionally, supper clubs were considered a "destination" where patrons would spend the whole evening, from cocktail hour to nightclub-style entertainment after dinner.
Tim McLoone's Supper Club opened in July 2008, bringing back this supper club concept of days gone by. On weekends, the venue offers the experience of great live entertainment paired with exquisite cuisine. Located on the boardwalk in Asbury Park, above McLoone's Asbury Grille, you will find an elegant venue to enjoy some of the area's finest entertainment.
Participation is included with registration. Additional guest tickets will be available during open Symposium registration for an additional $82 per seat (plus Eventbrite fee).
---