Contact The NJ State Museum
Mailing Address:
NJ State Museum
PO Box 530
Trenton, NJ 08625
Museum & Auditorium Galleries:
205 West State Street
Trenton, NJ
Tel: (609) 292-6464 (recorded message)
Email:
Feedback@sos.nj.gov
ISPH 2017 - Field Trips
Field Trip #1
This field trip, included with registration, departs from the Nassau Inn (Princeton, NJ) at 7:30 AM, sharp, on Thursday, July 13, 2017. RSVP is required at the time of Symposium registration.
Note: There will be a stop for lunch, but participants will have to pay for their own lunch. Cash only.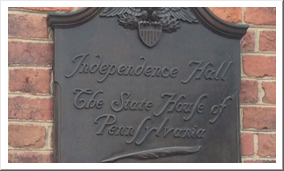 First stop:
Independence National Historical Park
Philadelphia, Pennsylvania
The birthplace of the United States as a nation. See and experience: A guided tour of Independence Hall, location of the signing of the US Declaration of Independence. Please note that visitors must go through a security screening, similar to airport security.
Please carry only cameras and essentials, and plan to leave other belongings in the bus.
The Liberty Bell, icon of freedom and self-determination
The Tomb of Benjamin Franklin (weather permitting)
Walking tour of other historic buildings from the early days of the country (weather permitting).
See www.nps.gov for detailed information on individual sites.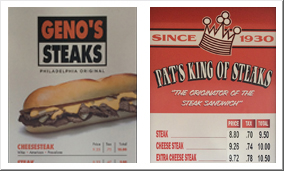 Second stop:
Early Lunch Break - Pat's King of Steaks, or Geno's Steaks
Philadelphia, Pennsylvania
Cash only
The Philly Cheesesteak, Philadelphia Cheesesteak, or just plain "cheesesteak" to the residents of Philadelphia, is a regional icon of edible Americana.
The classic cheesesteak is a sandwich of sizzling, thinly sliced beef "wit" or "witout" onions and served with a choice of provolone or Cheez Whiz (cheese sauce) on a long roll. Two of the most famous cheesesteaks shops are directly across from each other on Passyunk Avenue in Philadelphia: Pat's King of Steaks is the birthplace of the cheesesteak. Established in 1930 by Pat and Harry Olivieri, the business has been in the family ever since, doling out cheesteaks to locals and tourists alike.
The opening of Geno's Steak across the street in 1966 by Joey Vento, with a "perfected" cheesesteak, set off the long-standing rivalry that continues to this day. The rivalry has also generated a regional phenomenon where one of the first things asked of a Philly local is "Pat's or Geno's?"
Please study the menus above in advance, so that ordering may proceed smoothly and quickly. (click on the menu for a larger version)
For vegetarians in the group, Pat's King of Steaks can make a meat-free sandwich upon request. If you have other dietary concerns or requirements, please contact Rodrigo.Pellegrini@sos.nj.gov in advance.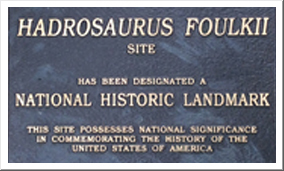 Third stop:
Hadrosaurus Foulkii discovery site
Haddonfield, New Jersey
In 1858, the world's first nearly-complete dinosaur skeleton was discovered on a farm in New Jersey. Ten years later, the remains unearthed there became the world's first mounted dinosaur skeleton.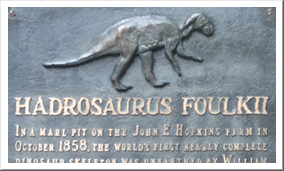 Learn more about this historically and scientifically important specimen, and enjoy a visit to the site where it was found.
Fourth stop:
Ellisdale Fossil Site
Ellisdale, New Jersey
Although most people imagine contemporary New Jersey as a completely developed region with a shore, undeveloped land does still exist in the state. Additionally, county and state parks have preserved a number of fossil sites. The New Jersey State Museum regularly visits and monitors these locations, relying on strong relations with local avocational paleontology groups such as the Delaware Valley Paleontological Society. Ellisdale is one of these sites. Owned by the Monmouth County Park System, it has produced the largest and most diverse fauna of Late Cretaceous terrestrial animals from eastern North America to date.
Research Associates Robert Denton and Robert O'Neill discovered the site in 1980 and along with NJSM paleontologists have worked the site since, naming type specimens of a lizard and salamander. Our visit will show not only a very important fossil site, but what an active dig in New Jersey is typically like. More information can be found at
Ellisdale Fossil Site
.
This trip will also include drive-by sights (no stops are planned) of the Academy of Natural Sciences of Philadelphia and the Philadelphia Museum of Art, among other sites of interest.
Arrival back at the Nassau Inn is planned for approximately 5 PM.
Field Trip #2
Field Trip #2 has been cancelled because of low interest.
Field Trip #3
The third outing is a day trip to the College of Physicians of Philadelphia's Mütter Museum for a guided tour. This trip is an alternate to Field Trip #2: it takes place the same day, Friday, July 14, 2017. The group will leave the Nassau Inn at 7:45 AM.
The fee for this trip is $31; registration will be offered concurrently with Symposium registration. Note: Lunch will not be provided, but there are several eating establishments available near the Mütter Museum.
America's finest museum of medical history, the Mütter Museum displays its beautifully preserved collections of anatomical specimens, models, and medical instruments in a 19th-century "cabinet museum" setting. The organizing committee will provide one or more people to guide participants to the Mütter Museum from the Nassau Inn and back, using public transportation.
Transportation tickets will be distributed to participants the morning of the trip before the group boards the first train. Guided departure from the Mütter Museum back to the Nassau Inn is scheduled for 4:45 PM, which would place participants back at the Nassau Inn at approximately 6:45 PM. An earlier departure can be arranged depending on interest.
Additional information on the Mütter Museum can be found by visiting their website at www.muttermuseum.org.
---