Paleontology Field School
Join the New Jersey State Museum's paleontologists on a real paleontological expedition to the fossil-rich rocks of Montana and Wyoming! Experience the natural history of one of the most beautiful regions in the world.
Learn field paleontology by experiencing it! Join the New Jersey State Museum's paleontologists in the foothills of the Rocky Mountains in Montana and Wyoming.
We'll collect Cretaceous aquatic and terrestrial animals (including dinosaurs!), Devonian fishes, and rare Paleogene mammals in the Bighorn Basin.
Dinosaur Hunting in the Rocky Mountains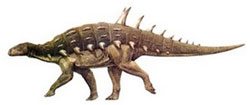 Teachers: Complete your yearly continuing education credits by participating.
Students: Receive undergraduate or graduate credit from the South Dakota School of Mines & Technology.
General Public: Anyone can participate in this experience. Do more on your next vacation –
be a dinosaur hunter!
The expedition is a serious museum project and is more than just a field trip. Your efforts will aid the NJSM's decades-long paleontology research efforts in the region.
The field course is led by David Parris, Curator of Natural History, and Jason Schein, Assistant Curator of Natural History, at the NJ State Museum.
Dates:
July 14 – July 20, 2013 – room still available!
July 21 – 27, 2013 -

Booked

July 28 – August 3, 2013 – room still available!
The expeditions are held every year, so if you are interested please contact us for next year's dates.
Requirements:
Must be at least 14 yrs old (14 – 17 must be accompanied by an adult)
Good physical condition
Proof of health insurance
Fees:
$1,150 Friends Members
$1,250 Non-Friends Members
$1,350 Undergraduate Students
$1,450 Graduate Students
All fees are per week - Students seeking credit are required to attend for 2 weeks.
10% deposit due upon registration
40% due June 15, 2013
Balance due July 1, 2013
Students seeking credit must be registered by May 20, 2013.
Fees include registration, tuition, lodging & meals, collecting tools & equipment, transportation to and from the Billings airport and base camp and to/from all field sites, and all instruction and educational materials.
NOTE: Fees do not include transportation to/from your home to Billings, MT.
For more information or to request an application package, please contact:
Follow the adventures on our blog.