Contact The NJ State Museum
Mailing Address:
NJ State Museum
PO Box 530
Trenton, NJ 08625
Museum & Auditorium Galleries:
205 West State Street
Trenton, NJ
Tel: (609) 292-6464 (recorded message)
Email:
Feedback@sos.nj.gov
Thursday Theater in the NJSM Auditorium
This monthly live theater series is a wonderful way to expose your students to a theater experience while connecting with classroom curriculum. Choose performances based in science, literature or social studies.
These shows are a steal at only $3.00 per person! Be sure to ask about our special offers throughout the year and remember that all Trenton Public Schools may attend performances FREE of charge. All shows begin at 11:00am.
Advance registration is required for groups of 10 or more. For reservations call (609) 292-6347. School Groups: be sure to ask how to add tours, workshops and planetarium shows to your field trip schedule for an entire day of educational exploration.
Upcoming Shows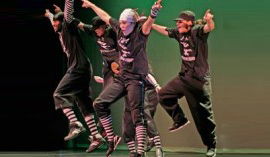 Become Your Dreams
(History of Hip Hop) Illstyle & Peace Productions
January 28, 2016
With incredible energy and personalities to match, the dancers of Illstyle & Peace demonstrate and teach the history of hip hop dance! Showcasing early hip hop dance styles, move through the history of hip hop dance from the 1960's to today. The program ends with the positive message of "Think it – Do it – and Become it!"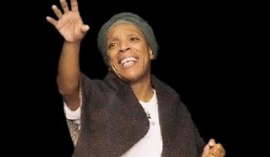 Harriet Tubman - Gwendolyn Briley-Strand
February 11, 2016
This dynamic one-woman performance takes students on one of the 19 journeys Harriet Tubman took through the Underground Railroad. Briley-Strand portrays the strength, courage, faith, and steadfastness of this remarkable American - once a slave herself - who led more than 300 other slaves to freedom.
Appropriate for grades 3-12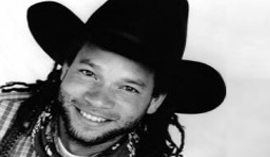 I, Nat Love - Rochel Garner Coleman
February 18, 2016
Playing the Black Cowboy, Nat Love, Rochel treats the audience to the life and times of this ex-slave who joined thousands of others like him to explore and settle the West. From Love's birth into slavery to his walk to freedom and how he won his name, the performance recreates that special period in American history that has captivated generations ever since.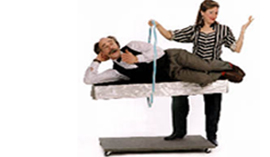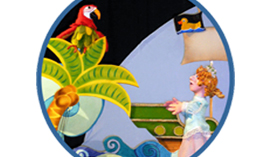 The Crabgrass Theater: The Pirate,
the Princess and the Pea
March 10, 2016
A swashbuckling adventure about friendship and cooperation! Take one bumbling buccaneer. Add one problem-solving princess. Throw in a stack of mattresses with a pea on the bottom, and put the pirate on top. Season liberally with sharks, sea monsters and side-splitting action and you have the recipe for one hilarious adventure on the high seas!
Appropriate for grades pre-K to 4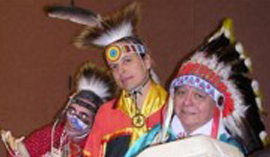 Yah-Oh-Way: Thunderbird American Indian Dancers
March 17, 2016
Yah-Oh-Way, meaning "it is good" in Hopi, features dances of various Native American nations. Accompanied by song and drumming, the dancers don beautiful costumes and explain the meaning behind each movement. Audience volunteers will have a great time participating in the Feather Dance, a traditional expression of thanksgiving.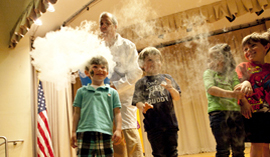 Mad Science: Marvels of Motion
April 7, 2016
Come one, come all… to the Mad Science Physics Olympics! This interactive event is all about the fun-damentals of moving science including Newton's 3 Laws of Motion and all sorts of surprises and even amazing "space-age" rocket packs. Compete in wacky events, while scientists prepare to unveil their top-secret motion machine. Come find out why this show is such a "blast!"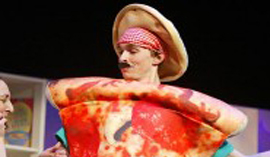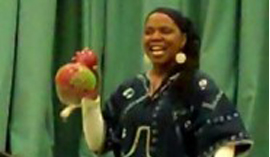 Folktale Fun - TAHIRA
April 28, 2016
Clever spiders, signifying monkeys and grinnin' buzzards are some of the characters in the Folktale Fun told by TAHIRA. Ideal for preschoolers and elementary school-aged children. Captivating young audiences while imparting universal values such as appreciating differences and being kind with your words. Audiences remarked how inspiring, as well as entertaining TAHIRA's folktales are.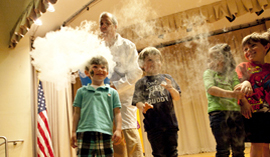 Mad Science: Up Up and Away
May 19, 2016
A large and flashy show that will capture the audiences' interest and demonstrate how exciting science can be. Demonstrations and experiments including the three states of matter, air pressure (using the Madgeburg Sphere), a Hot Air Balloon, the Mad Science Hovercraft, a giant size vortex generator and the Big Sneeze demonstration.
Appropriate for grades K to 6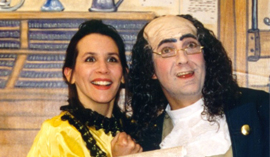 Flying Ship Productions: The Courage to Dream - Amazing Life of Ben Franklin
May 26, 2016
This engaging musical theatre performance will entertain and enlighten. Ben Franklin was America's first true Renaissance man: printer, writer, inventor, scientist, diplomat and statesman. Despite humble beginnings and only two years of formal schooling, Franklin changed the world.
Appropriate for grades K to 8