Halloween Spooktacular at the State Museum
October 25, 2014
10 am to 3:00 pm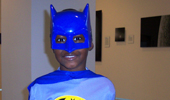 Celebrate Halloween with a day of fun activities at the museum. Get your FREE TerraCycle Trick-or-treat bags while supplies last! Visit the Riverview Court to make and take crafts inspired by New Jersey's spooky history.
Join us in the auditorium at 1:00 for the FREE Mad Science Halloween show! Through a mixture of science and magic the children will see a paper spider turn into a 'real-live' spider. Hear the tales of Count Eggbert and Countess Eggberta as they battle the wicked witch. Watch as the wicked witch is melted right before your eyes! The audience will find out how the seemingly sane Mr. Bernoulli helped the Mad Scientist float an eyeball in the air. Then, as a grand finale, the Mad Scientist will introduce the audience to the eerie world of Dry Ice, making bubbling potions and lots of fearsome fog. All will have an evening of gruesome goodness and fun!
Don't forget to come in costume and sign up for our costume contest! The contest will be held immediately following the show in the Museum auditorium. Every child will have the opportunity to parade across the stage and show off their costume creations. Prizes will be awarded in 3 age categories. Plan to stay for a FREE Planetarium show at 3:00.