Whether exploring the universe in our Planetarium, seeing fossil preparation in our Innovation Lab or participating in hands-on science your group will have a blast in the new State Museum! Camp Groups are always welcome.
Planetarium Shows
Located in the Museum's Planetarium, Tuesday through Friday. $7.00/adult and $5/child or $5.00/person for groups of 15 or more. Camp groups welcome
: to make group reservations
call 609-292-6347.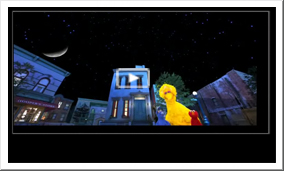 10:00 am - One World, One Sky
Big Bird's adventure begins on Sesame Street when Elmo's friend, Hu Hu Zhu, visits from China. Big Bird, Elmo and Hu Hu Zhu take viewers on an exciting discovery of the sun, moon and stars. When they imagine themselves back on Earth, they celebrate the idea that even though they live in two different countries, they still share the same sky.
Made possible by the Sesame Street Workshop and the National Science Foundation. Recommended for ages 3-6 with adults.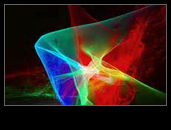 11:00 am - Laser Kid Power
(New)
The hottest artists and the latest laser art come together in a sensational, eye-popping show that will have your heart thumping and your feet tapping! Laser Kid Power features the music of sizzling stars, both past and present, choreographed in brilliant laser light. Our new laser system illuminates the full dome in millions of dazzling colors, for an immersive audio-visual experience that's fun for the entire family!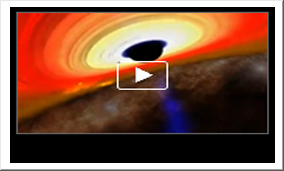 1:00 pm - Black Holes
(New)
Few mysteries in the universe have the power and awe of black holes. Only now are we on the verge of understanding their true nature. What are they? How are they made? Is the Earth in danger of being pulled into one? This new program incorporates some of the most intense full dome visual effects ever created on the subject.
Suitable for general audiences.
New Exhibits
NANO
Imagine and discover a world you can't see!
This 400-square foot traveling exhibition was created by the Nanoscale Informal Science Education Network (NISE Network) with support from the National Science Foundation. The exhibit includes hands-on, interactive stations that invite exploration of nano phenomena and real world applications and implications. This exhibit is made possible by the Princeton Center for Complex Materials in partnership with the Princeton Public Library and the NJ State Museum.
For more information, visit
whatisnano
Drawn to Dinosaurs: Hadrosaurus Foulkii
As the world's first nearly complete dinosaur skeleton, its discovery in Haddonfield, NJ caught the world by storm – it revolutionized the science and helped propel southern New Jersey to the "center" of the paleontological world. The exhibit features a 25 foot long cast of Hadrosaurus foulkii plus a life-size, hand-drawn life-like illustration on a chalk board. The role of paleo-artists and the study of nature in the development of modern theories of dinosaur anatomy, behavior and more is examined.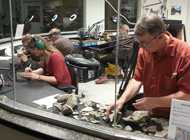 Innovation Lab
The Innovation Lab is primarily a paleontology preparation laboratory. See the latest fossil finds excavated by the working scientists on staff at NJSM. The lab will be staffed by fossil preparators, researchers and educators who are happy to answer questions and show off their latest projects. In addition, this space will also serve to educate the public on various scientific advancements taking place throughout New Jersey and potentially world-wide to put New Jersey's scientific advancement in a global context.

Lab hours are Tuesday-Thursday and some weekends. Reservations are not required. Be sure to visit the lab on Level Two in the Natural History Hall.
Hands-On Workshops
1st - 12th Grade - Located in the Innovation Learning Center, available Tuesday through Friday. $3.00/person, Reservations are required and groups must have 15 or more people.
Call 609-292-6347 for reservations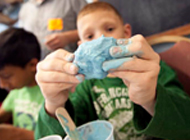 Polymers
Children will explore the properties of polymers by experimenting in a fun, goopy hands-on workshop! Explore chemical reactions and get your hands messy with a nontoxic substance made of glue, water, and borax soap. It's a fascinating workshop that explores the science of atoms, chemical reactions and behavior of matter. At the conclusion of the experiment, children are invited to explore their artistic side by creating a sculpture out of their newly formed creation.
NANO
Think small, no, REALLY small! Explore the world of Nano Technology and learn about how it is used in things we see every day. Materials can have different properties at the nano scale and nanoscience involves research to discover these new properties and behaviors. Your group will participate in Nano experiments to learn more about this science.
Digging Dinosaurs
Explore Hadrosaurus foulkii and other NJ dinosaurs through a variety of activities. Your group will dig for dino bones and see how they fit together. They will explore Haddy's footprints and calculate the stride. Finally, they will make their own dinosaur fossil, choosing one of several NJ Dinosaurs while learning about the different types of dinosaurs and when they lived.
Curatorial Talks
4th - 12th Grade - Enhance your trip to the Museum with presentations from our expert curatorial staff. Students are able to ask questions, see real artifacts, and learn from some of the leading experts in their fields! $3.00/person reservations are required and groups must have 15 or more people.
Call 609-292-6347 for reservations.
Archaeology in NJ
Students will get an overview of the most significant historic and pre-historic sites in the state from the Assistant Curator of Archaeology and Ethnography. Students will understand how the changing environment created habitats for both animals and people. They will explore artifacts that illustrate how early inhabitants lived, worked and hunted for food. Students will also learn about how to become an archaeologist.
Dinosaurs of NJ
(not available in July)
Students will get an overview of the most significant historic and pre-historic sites in the state from the Assistant Curator of Archaeology and Ethnography. Students will understand how the changing environment created habitats for both animals and people. They will explore artifacts that illustrate how early inhabitants lived, worked and hunted for food. Students will also learn about how to become an archaeologist.

Learn all about the world of dinosaurs – including the Tyrannosaurus Rex – that once dominated New Jersey's prehistoric habitats. Special focus will be on New Jersey's two most famous dinosaurs, Hadrosaurus Foulkii and Dryptosaurus. Hadrosaurus was the most complete dinosaur skeleton unearthed anywhere in the world when it was discovered and scientifically documented in 1858. Hadrosaurus Foulkii became the official State dinosaur of New Jersey in 1991.

The Dryptosaurus was discovered in Barnesboro, New Jersey, and is the second nearly complete dinosaur skeleton found anywhere in the world. Students will see illustrations of these giants, as well as casts taken directly from the dinosaurs' bones.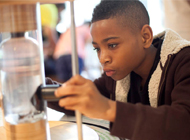 Becoming a Natural Scientist
(not available in July)
What does it take to be a scientist? Curiosity is number one! The more scientists discover about the world, the more questions they have. Students get a sneak peek into the work of natural scientists within the five major branches: chemistry, astronomy, earth science, physics and biology.

Students will also learn about the Museum's extensive natural science collection and how scientists and researchers regularly use this collection for their work. Finally, they will be able to meet the Museum's curators and ask questions about their jobs, research and field work.
Early Learning Programs
Pre-K to 1st Grade - Located in the Lower Level Classroom, available Tuesday through Friday. FREE
Reservations are required and groups must have 15 or more people. Call 609-984-8487.
Backyard Tweets
Young scientists launch their studies by investigating the world around them-beginning in their own backyard! Using specimens from the Museum's natural history collection, children will learn how New Jersey's wildlife communicates through sound, body language, scent, and color. This hands-on, interactive program features object based learning techniques as well as music, dance, imaginative play, and American Sign Language. Each child will have the opportunity to create a musical instrument that imitates one of New Jersey's endangered species!
Paint Me a Story
Art and storytelling go hand in hand, as visual literacy promotes both print literacy and language development. Young children learn to "read" objects and images long before they learn to read words. This open-ended workshop engages young children with art by giving them the opportunity to create and perform stories using pieces from American Perspectives, The Fine Art Collection. They will explore color, themes, and feelings in different settings, from a vibrant music lesson in the city to a quiet morning in the woods. In the second half of the program, each child will create their own artwork about one of the stories they told. Participating schools have the option of having their student's artwork and stories bound into a booklet as a class memento.
Guided Tours and Self-Guided Scavenger Hunts
1st - 12th Grade
- Exhibition tours are free and created to enhance your visit to the Museum, providing an in-depth and unique perspective on exhibitions and objects. We can tailor the tour to your specific learning objectives, mixed age group or special needs.
FREE
, Reservations are required and groups must have 15 or more people.
Self-guided Scavenger Hunts
(available at the front desk, reservations not required,
FREE
)
New Jersey's Original People
This exhibit explains the story of the migration of Paleoindians across New Jersey and how they adapted to the changing climate beginning 13,000 years ago. Students can become scientific investigators to uncover what early inhabitants ate. They can see Paleoindian tools and guess their modern counterparts. Students can even touch a variety of materials used for making pots. An adjacent gallery, "The Science of Archaeology," provides students with an opportunity to encounter an "active" dig site.
Pretty Big Things
Do you know which American presidents have historical ties to our state? Can you name the symbols found on the Great Seal of the State of New Jersey? Learn the answers to these big questions of New Jersey history in Pretty Big Things: Stories of New Jersey History. This educational exhibit takes students on a journey into unknown stories of New Jersey history using some of the "biggest" artifacts from the Museum's collection.
American Perspectives
In this exhibit, your students will see art by well-known artists including Andy Warhol, Georgia O'Keeffe, Roy Lichtenstein, Romare Bearden, Jacob Lawrence and many more. Students will see the diversity of voices and visions found in 19th through 21st century American art and explore how world and US events (historical, political, cultural, etc.) impacted artists.
Planning Your Trip
To make a reservation call 609-292-6347 and have ready: preferred date of arrival, preferred programs and number of people in your group.
The Museum's Planetarium box office opens at 10:30 am on weekdays; cash, checks, MasterCard, and Visa are accepted. If paying by cash, please compile money before going to purchase tickets; please arrive 20 minutes prior to show time; there is no late seating.
All groups should have an appropriate level of student supervision (1 chaperone per 10 children is recommended); chaperones will also be required to pay program fees.
Shoes and shirts are required in the Museum at all times.
The Museum does not have beverage or meal service but there is a vending machine on the Museum's 1st floor.
Groups are welcome to eat outside – on the Museum's plaza, under the Museum's eaves – or in the Riverview Court on the 1st floor (when available). Food is not permitted in any of the other Museum spaces.
Photography may not be permitted in all exhibitions. Please check with the Museum Guards or staff before taking pictures; flash photography is never allowed.
Please do not touch objects or artifacts on display – unless there is a "please touch" sign or there is an interactive educational activity.
Other nearby activities include the New Jersey State House; William Trent House; the Old Barracks Museum; Ellarslie, the Trenton City Museum, and more.