DEADLINE EXTENDED!
The New Jersey State Museum Invites Innovative Teachers to be a Part of Super Science Saturday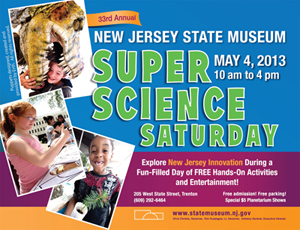 The New Jersey State Museum invites proposals from Middle School and High School educators who wish to demonstrate their innovative approaches to teaching science and technology in the classroom.
Three Middle School teachers and three high school teachers will be selected and invited to demonstrate their work/learning activities during Super Science Saturday at the NJ State Museum on May 4, 2013. Super Science visitors and Museum staff will select a winner from the finalists.
The winner will be announced at the event.
Details on the competition, prizes and deadline to apply are noted below:

Submit your proposal electronically, describing it in 500 words (or fewer), with up to five illustrations, by April 19, 2013. Proposals must meet the criteria listed below, and will be evaluated according to science/technology content, originality, and effectiveness of communication. Lesson plans will be helpful for evaluation.
Lesson demonstrations are to be attended by teachers during the entire day, 10:00 AM to 3:00 PM, providing appropriate interaction with the Museum's visitors. We encourage you to invite students to participate as well.
Spaces for lesson demonstrations will be limited to two rectangular tables and eight square meters behind the tables, with access to one pair of electrical sockets.
Lesson demonstrations must adhere to general museum standards and scientific ethics, cannot be excessively noisy, nor include offensive content. There can be nothing that will cause cleaning problems or hazards to general safety.
Food and drink are not permitted in the galleries, but a room will be provided for breaks and lunch consumption.
Presentations will be judged by curatorial staff and the general public, and a $250.00 prize (in support of the teacher's classroom activities) will be awarded to the teacher who receives the most votes. Second and third prizes including free Museum memberships, teacher workshops, and field trips will also be awarded.
Deadline for proposals has been extended to April 19, 2013.

Submit your proposal to:

David C. Parris
Curator of Natural History
New Jersey State Museum
609-984-3846

david.parris@sos.state.nj.us