Contact The NJ State Museum
Mailing Address:
NJ State Museum
PO Box 530
Trenton, NJ 08625
Museum & Auditorium Galleries:
205 West State Street
Trenton, NJ
Tel: (609) 292-6464 (recorded message)
Email:
Feedback@sos.nj.gov
Volunteer at the Museum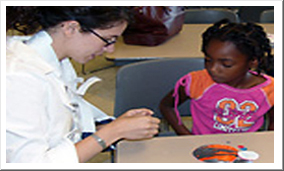 Volunteers are Needed!
Please consider filling one of the many volunteer opportunities within the New Jersey State Museum or help us to find qualified people to fill our ranks.
Call Melissa Kelly at
609-292-6310
or via email
melissa.kelly@sos.nj.gov
to discuss volunteer possibilities.
Internships at the New Jersey State Museum
Further your education, career, and interests by interning at the New Jersey State Museum!

The State Museum has numerous opportunities for students who want to learn more about their fields of study, gain valuable experience, or to broaden their interests.

Multiple intern opportunities exist in each of the Museum's five bureaus (Archaeology/Ethnology, Cultural History, Education, Fine Art, and Natural History Planetarium).

Duties may include working in a bureau's office, laboratory, collections management, library, or helping with research, exhibitions, education and field work.

Recent interns have aided in the cataloging of fossil specimens, served as docents in the Museum's exhibitions, aided in the preparations for a major exhibition, and helped to develop educational programs, services and curricula. Interns have also worked on projects that were published in scientific journals. Project ideas initiated by the interns will be considered.

Interns work under the supervision of the professional staff within the five bureaus; contact between the student, the academic advisor, and the Museum staff is encouraged.

An interview with the appropriate staff member and approval by the Bureau's Curator is required.

Interns should be able to work with a high degree of independence, self-motivation, and accuracy. Please note: the NJSM cannot offer paid internships at this time, however, we will work with your educational institution to assist you in gaining credit (where possible) for the internship.
If you are interested in interning at the New Jersey State Museum, or if you would like more information, please contact one of the curators below:
Museum Educators will work closely with school groups that visit the New Jersey State Museum. Museum Educators will provide guided tours of the Museum's exhibits and be able to point-out elements that would be of interest to school-age children. Ideally, Museum Educators should have a background or a degree in early childhood education (K-12) and a comfort level with speaking to groups of 20 to 30 children or leading object-based classroom exercises. Exhibit-specific training will be provided.
The New Jersey State Museum is looking to re-establish its Docent Corps. Docents will receive exhibit-specific training so that they will be comfortable talking with the general public about an exhibit or a particular aspect of the exhibit. Depending on the number of available Docents and the size of the Museum's exhibits, Docents may be asked to interpret an entire exhibit or sections of the exhibit. Docents will be expected to provide a level of information that is more detailed than the printed materials - often providing information that "brings to life" a particular object or exhibit. Docents should be comfortable with speaking to small groups of 10 to 15 visitors.
Gallery Volunteers are an important part of the New Jersey State Museum. Gallery Volunteers serve to welcome the general public to the Museum and provide basic information such as the location of specific exhibits, public restrooms, hours of operation, etc. Gallery Volunteers will be stationed at the front doors and throughout the Museum - sometimes within galleries or covering a particular area of an exhibit. If a Gallery Volunteer is stationed within a gallery, exhibition-specific training will be provided.