As a center of cultural, educational, and scientific engagement, the New Jersey State Museum inspires innovation and lifelong learning through collections, research, exhibitions and programs in science, history and art. NJSM engages visitors of all ages and diverse backgrounds in an exploration of New Jersey's cultural and natural history presented within a global context, fosters state pride, and serves as a cultivator of tomorrow's leaders.
Contact The NJ State Museum
Mailing Address:
NJ State Museum
PO Box 530
Trenton, NJ 08625
Museum & Auditorium Galleries:
205 West State Street
Trenton, NJ
Tel: (609) 292-6464 (recorded message)
Email:
Feedback@sos.nj.gov


November 25 - January 7

The Planetarium presents its seasonal special Holiday Magic show!

Saturday, December 30, 2 PM

Join Civil War flag historian David Martin and Cultural History Curator Nicholas Ciotola for a gallery talk and ceremony unveiling the latest rotation of historic flags from the Civil War Flag Collection, one of the largest collections of its kind in the nation.

December 26 – 29, 11 am – 2pm
Imagination Studio

Drop by to participate in our free daily art projects! All ages are welcome to get creative in our Winter Art Studio. A different project will be offered each day, inspired by art on view in the exhibition American Perspectives: The Fine Art Collection.

December 16 & 28, 10 am

Explore snow through stories, crafts and play! We'll read "The Snowy Day" by Ezra Jack Keats, followed by a visit to the Inuit/Eskimo section of the Hearth & Home exhibition, and more fun, hands-on activities. This month, the program will repeat on December 28 for Winter Break.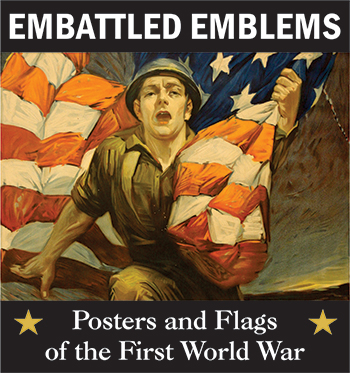 September 16 - August 19, 2018
East Gallery

This new exhibition showcases artifacts that were used to stir patriotism and support the cause of war.

On view through August 19, 2018
East Gallery, Central

Part of the Museum's commemoration of America's entry into WWI, the exhibition showcases paintings, drawings, and prints by twenty-three artists who experienced the frontlines of World War I.

October 7 – September 9, 2018
2nd Floor, Riverside Gallery

This family-friendly exhibition will offer visitors the opportunity to learn about the homes and home life of Native Americans in the Eastern Woodlands and other environments all across North America.
---