Resources
The New Jersey Department of Transportation (NJDOT) is prepared to clear snow and ice from roadways statewide. NJDOT fills its salt and liquid calcium inventories, fits its trucks with plows and is ready to deploy personnel to ensure motorist safety during the winter season.
NJDOT maintains 37 remote roadway weather sensing stations (RWIS) to help keep crews informed of road conditions on the state highway system. These stations provide detailed information on weather and road conditions in specific regions of the state, including air temperature, humidity, wind speed and direction and road and bridge surface temperatures.
The following information illustrates the scope of facilities and material necessary to successfully combat winter weather on the 13,295
lane-miles of highways in New Jersey.
Facilities
Material is housed in 70 salt storage facilities, 49 domars and 21 sheds at 68 maintenance yards (including winter-only yards) statewide.
Materials
Untreated salt storage

Capacity (in tons):
Statewide:

164,003

North:

64,701

Central:

56,002

South:

43,300
Liquid calcium storage
Capacity (in gallons):
Statewide:

716,402

North:

284,200

Central:

253,602

South:

178,600
Brine solution storage
Capacity (in gallons):
Statewide:

150,703

North:

54,002

Central:

57,501

South:

39,200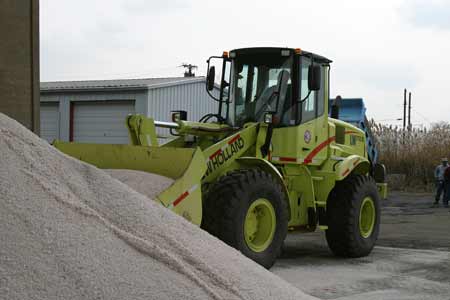 Preparation begins for an approaching
winter storm at an NJDOT maintenance facility.