2009 New Jersey Outstanding Young Farmer
H. William Sytsema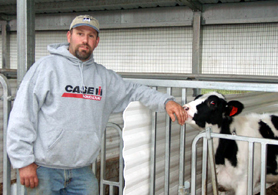 As a fifth generation farmer, H. William Sytsema continues the family tradition in Sussex County.  His father purchased the home farm of 120 acres in 1953, growing corn and hay and raising 30 cows.  While growing up, Will was a fixture at his father's side.  Over the years, Will's role in the farm developed – helping his father crop the fields and handling the dairy operation on his own. 

In 1994, Will married Holly, whose grandfather and uncle were both farmers.  After the birth of their second child, Holly joined Will full-time on the farm.  Will bought the cows from his father and the purchase of the farm followed.  In 2002, the family expanded their farming interests to include a quaint, seasonal retail farm market to sell their produce, eggs, cut flowers, canned goods and crafts produced on the farm.  In addition, Holly gives hands-on educational farm tours for preschool-through second graders.

Windy Flats Dairy now includes 87 acres owned by Will, 40 acres owned in partnership, 900 acres of rental fields, 110 cows, 80 replacement heifers and 15 beef stock.

Will is a strong participant in the EQIP program, entering into a contractual agreement for conservation priority prescribed grazing, filter strips and integrated crop management.  Using a cost share grant, he replaced his undersized earthen manure storage system with a concrete manure tank to alleviate the potential for environmental harm.  Production practices such as crop rotations, crop residue management, manure management, crop conservation tillage and soil analysis are all an integral part of Will's success, which led to receiving soil conservation awards on three separate occasions. 

Will is a participant in the New Jersey Cattle Health Assurance Program to promote herd health, completed a new calf nursery facility that allows better care and growth and healthy calves with less labor and his beef stock is designated "all natural supreme beef."  For all of his efforts, Windy Flats Dairy has been designated a Dairy of Distinction.

Will and his family are very involved in their community.  Will has served as a deacon and teacher in the Sussex Christian Reform church; President and Vice-President of the Sussex County Holstein Association; delegate to the New Jersey Holstein Association; Committeeman for the Sussex County Board of Agriculture; officer and youth advisor for the Wantage Hustler 4-H; county committeeman for the USDA FSA; and the Board of Directors for the Sussex County Milk Producers.

In addition to being named New Jersey's Outstanding Young Farmer, on February 14, Sytsema was named one of four National Outstanding Young Farmers.  Click here for the press release.

Will and his wife Holly are devoted parents to four children:  Halee, Will, EmmaMae and Clay.