Burlington County CART
Who we are: New Jersey's County Animal Response Teams (CARTs) are a group of volunteers that are trained emergency responders for disaster events in a county. Examples of disaster events include natural disasters, such as hurricanes, and man-made disasters, such as gas explosions. These events could require evacuation and sheltering of residents in an affected neighborhood or region.
What we do: CARTs provide appropriately trained staff to operate and manage an animal shelter for the pets of evacuated residents. These are temporary pet shelters associated with a disaster event and are not shelters for stray or surrendered animals.
Who to contact: Small animal complaints or related public safety concerns, such as loose animals or animal bites, should be directed to your local animal control office or police department. Livestock welfare complaint concerns should be directed to the New Jersey Department of Agriculture at https://bit.ly/3nLJSCp. CARTs are not responders for local animal or wildlife issues.
Animal Medical Emergencies: Any animal medical emergency needs to be directed to a licensed veterinarian. CARTs are not responders to medical emergencies of animals.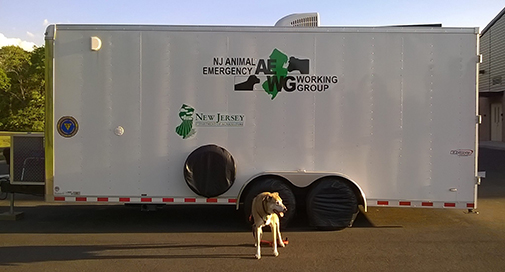 Mission Statement: The CART provides public outreach on animal disaster preparedness, and assists with animal emergency rescue and sheltering when first-responders are overwhelmed. We are deployed by the Burlington County Office of Emergency Management.
Burlington County CART Contact:
CART Director
Elaine Sullivan
Lainey7211@aol.com
www.facebook.com/BurlingtonCountyAnimalResponseTeamcart
Burlington County OEM Contact:
Darryl Williams
PO Box 60001 Academy Drive
Westhampton, NJ 08060
Phone: 609-265-7165
Email: dtwilliams@co.burlingtob.nj.us
http://www.co.burlington.nj.us/oem
To Volunteer:
E-mail us at burlcoCART@yahoo.com. All are welcome; we need volunteers with all types of backgrounds & skills. Volunteers must take CERT training first and additional animal-specific courses later. CERT training is provided for free by the Burlington County OEM.
Additional information on CERT may be found on the Burlington County webpage: http://www.co.burlington.nj.us/1608/Citizen-Corps