2014 New Jersey Outstanding Young Farmer
Mitchell Jones
View the Commemorative Video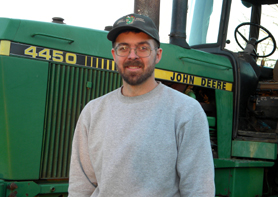 Mitchell Jones is a first-generation farmer in Warren County. As a teenager, he worked on local farms and was a member of FFA, gaining hands-on experience about production agriculture. After graduating from Penn State with a Bachelor of Science degree in Agronomy in 1998, Jones began renting farmland.  Over time he has expanded his rental properties and now owns a small farm.

Jones is a hay and grain farmer who readily adapts to his hay customers' needs by providing diverse sizes of hay bales. Over the years, he has increased his volume of production and transitioned to larger bale sizes, which reduces his labor needs and increases his profit margins.

Jones, whose father worked for the USDA's Natural Resources Conservation Service, takes to heart the need to preserve and conserve natural resources. Conservation practices are applied to all acreage he owns and rents. He utilizes cover crops to control erosion and increase organic matter; uses minimal till or no till; has installed lined waterways, underground outlets and erosion control measures; has lands enrolled in a Conservation Stewardship Program; implemented Intensive Nutrient Management on farmland; and works with the NRCS in conjunction with the Audubon Society.

Contribution to agriculture and service to his community is of the utmost importance to Jones. He has served or is serving in the following capacities:  soil judging coach to Belvidere High Schools FFA program; Warren County Board of Agriculture President, Vice President and Treasurer; Secretary and Treasurer on the Rutgers University Board of Managers; NJ Farm Bureau Convention and State Agriculture Convention delegate; Warren and Warren Pomona Grange member; and is a voting member of the Warren County Economic Development Advisory Committee.

Jones' wife Lauren is a Certified Nursing Assistant at the Intensive Critical Care Unit of St. Lukes Hospital. She helps with the farms' daily chores, handles bookkeeping and financial planning for the farm and is active in several Warren Grange activities.

Jones is an innovative and hard-working farmer and is the 2014 New Jersey Outstanding Young Farmer.