Click here to search for a garden center or nursery in your area. When there, look for the Jersey Grown sign. Ask the garden center or nursery for Jersey Grown products
The New 2012 USDA Plant Hardiness Zone Map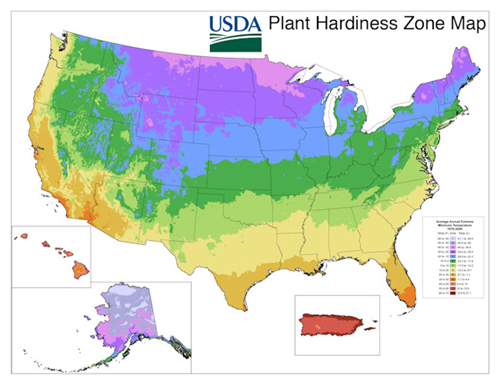 Jersey Friendly Yard - tips on how to beautify your yard using native and non-native vegetation that requires less fertilizing and watering, as well as an "Interactive Yard" tool that helps users landscape their properties in an environmentally friendly way that will not only reduce stormwater runoff, but will provide tips on how to capture and re-use rainwater in a beneficial manner.
NJ Weather - NJ Weather and Climate network (NJWxNet) web site, your one-stop destination for New Jersey weather and climate information. The NJWxNet can help keep your finger on the pulse of what is going on in your community and throughout New Jersey.
Rutgers Cooperative Extension offers soil testing kits. Located on the G. H. Cook Campus, the Soil Testing Laboratory is a service unit that offers chemical and mechanical analyses of soils for the residents of New Jersey and for Rutgers University researchers. Click here to find the local office in your county or call (732) 932-9295 for more information.
Rutgers Cooperative Extension assists New Jersey residents who spend significant time and money coping with the challenges that can occur while gardening-but they are not alone, thanks to the vast array of services offered by Rutgers New Jersey Agricultural Experiment Station (NJAES). Cooperative Extension, a unit of the experiment station, serves homeowners through factsheets, master gardener hotlines, workshops, and services that test soil and diagnose plant disease.
If Plants Could Talk - Features gardening tips from local university experts, successful farmers, master gardeners, and many other plant experts.