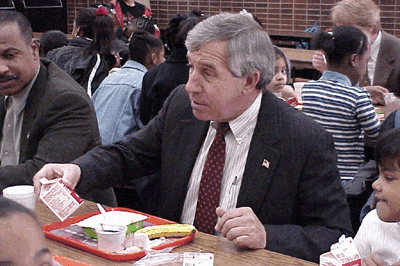 To highlight National School Breakfast Week and the new state-funded school breakfast initiative, Trenton Mayor Doug Palmer (far left) and State Agriculture Secretary Art Brown, Jr., enjoyed a nutritious breakfast with students at the Wilson Avenue Elementary School.

Agriculture Secretary Art Brown, Jr., marked National School Breakfast Week this morning with a visit to the Wilson Avenue Elementary School in Trenton. He was joined by USDA Regional Administrator for the Mid-Atlantic Region Christopher Martin, Trenton Mayor Doug Palmer, Trenton School Superintendent Dr. James Lytle and the 150 Wilson Avenue Elementary School students who routinely participate in the school's long-standing breakfast program."The School Breakfast Program provides tremendous benefits to every student," Brown said, "and it's good for the teachers, too. Students who eat a good breakfast are more attentive and better disciplined and have more energy to devote to learning." Brown's visit underscored the fact that the Garden State is the first state in the nation to offer school districts funding for school breakfasts for every student, regardless of family income. A 10 cent per meal state reimbursement debuted this year thanks to a $1.9 million program initiative Governor Christie Whitman included in her FY2000 state budget which enables the state to draw down federal dollars to support the program.1 The Governor's school breakfast initiative was designed to increase the participation of New Jersey school districts in this nationwide program after a recent national survey by the Food Research and Action Center revealed that the Garden State's schools ranked 49th out of 51 states (including Washington, DC) in breakfast participation. These findings were especially disappointing given the fact that nearly all of New Jersey's school districts participate in the federal School Lunch Program. While 550,000 students participate daily in school lunch programs statewide, only about 84,000 enjoy the benefits of the school breakfast program. "Since we began to offer our state-funded breakfast reimbursement, we have added 114 schools to the program," Brown noted. "That's a phenomenal increase in just a few short months but we still have fewer than 1,000 schools enrolled compared to the 2,500 schools participating in the school lunch program." Brown added that the department's goal over the next four to five years is to increase participation in the school breakfast program to a level that equals about 40 percent of the participation in the school lunch program. Kathy F. Kuser, NJDA's Director of Child Nutrition Programs, estimates that the average cost to produce and serve a breakfast meal in New Jersey is about $1.69, depending upon where the school is located and local demographics. State and federal reimbursements significantly reduce that cost for school districts.

New Jersey is the first state in the nation to include all of its child nutrition programs within the state Department of Agriculture.
---
1 Federal rates of reimbursement for the School Breakfast Program take into account the student's household size and family income. Federal reimbursement rates are currently $1.09 for each free breakfast, 79 cents for each reduced price breakfast and 21 cents for each full price breakfast. Statewide, more than 366,400 students qualify for free or reduced price meal benefits.