New Jersey Agriculture Secretary Art Brown, Jr., sampled federally-donated commodities in gourmet dishes during his tour of Ocean County Vo-Tech's (OCVT) culinary arts program in Brick as part of Governor Whitman's Cabinet on the Road visit to Ocean County today. Brown's complete review of the culinary arts and supermarket careers programs enabled him to talk with students in both curricula and took him through the kitchen, bakery, mini-mart and café where Department of Health and Senior Services Commissioner Christine Grant lunched with senior citizens from the area1. Joining Brown were Chris Martin, Mid-Atlantic Regional Administrator, USDA Food and Nutrition Service; Ian Smith, director of OCVT's culinary arts program; Laurie O'Donnell, director of the supermarket careers program; Brooke Tarabour, Executive Director of the FoodBank of Monmouth & Ocean Counties; and approximately 50 VoTech students from various programs. "The purpose of the federal commodity distribution program is to help make a positive difference in the daily lives of the less affluent members of our society," Brown said. "But this innovative public/private partnership has done more than provide tasty, nutritious meals for some of our senior citizens. It has also helped OCVT students gain excellent experience in food handling and preparation." Through a unique partnership between NJDA, USDA and FoodBank of Monmouth & Ocean Counties (FBMOC), OCVT's culinary arts program uses donated federal commodities from NJDA's food distribution program (fact sheet follows) as the basic ingredients in high-quality prepared foods that are distributed for use by a variety of community agencies that feed needy populations in the area. At the same time, OCVT welcomes those commodities because they not only stretch the budget of the vocational school but also expand the vocational training opportunities the students enjoy. Tarabour said the Food Bank welcomes the prepared food from OCVT in soup kitchens and shelters throughout the county. "In a little more than one year, we have fed more than 5,000 people through our Commodity Kitchen program at no additional cost to taxpayers. The system was already in place," she said. "We just made sure that it benefited as many people as possible. Martin noted that federally-donated commodities extend the purchasing power of commodity recipients, many of whom are on fixed incomes. "This translates into better nutrition and health for the people of New Jersey," he said, adding, "USDA has worked very hard to offer a wider variety of more healthful commodities and we intend to continue that work."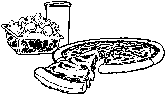 Today's menu included barbequed lamb, turkey in fruited cream sauce, rice pilaf and oatmeal bread, all prepared in whole or in part with USDA commodities. Side dishes included a baby greens salad featuring Jersey-grown greens in a red onion/Jersey Fresh honey vinaigrette and Jersey Fresh asparagus in a fruit sauce prepared from USDA-donated orange juice and figs. Since the project began at OCVT as a "Commodity Kitchen" pilot program in September 1998, over 3,200 pounds of donated commodities have been transformed into fully-cooked, flash-frozen main dishes, side dishes and deserts for distribution through FBMOC's Second Helping program. In addition to the dishes prepared today, federally-donated commodities such as rice, dry beans, turkey roasts, canned cherries, prunes, figs, and potato granules have been used to prepare a variety of dishes including ham and bean soup, turkey noodle soup, turkey pot pies, rice pilaf, raisin rice pudding and cherry crisp.


There are approximately 150 students in OCVT's culinary arts program, ranging from ninth grade to post-secondary. The curriculum trains students for careers in food preparation, food service or related management positions and even enables students to earn up to 15 college credits.

OCVT's supermarket careers program opens a wide range of vocational opportunities in the $40 billion wholesale/retail food industry to its students, most of whom have special educational needs. This is a segment of the food and agriculture complex that is strongly supported by both the Jersey Fresh marketing program and the Jersey Fresh Quality Grading Program. The senior citizens who participated in today's event are eligible to receive USDA commodities. When they left, they each took with them a bag that included USDA rice, salmon, tomato sauce, spaghetti, pears, milk, cereal, toothpaste and mouthwash.


NJDA'S FOOD DISTRIBUTION PROGRAMS

NJDA administers the federally-sponsored donated commodity distribution program, through which a variety of donated foods reach over 700 eligible school districts, summer feeding programs, institutions, and needy populations each month. NJDA has been extremely successful in taking advantage of all available foods by accepting New Jersey's fair-share entitlement, plus substantial volumes of bonus foods offered throughout the year by USDA. In FY99, NJDA accepted over 27 million pounds of USDA foods with a commercial value of almost $16 million for use in a variety of feeding programs other than The Emergency Food Assistance Program (TEFAP). These commodities were particularly important to the school lunch program, which provided monthly allocations of frozen, canned and dry foods to more than 2,200 schools throughout New Jersey feeding over 500,000 students daily.

The department also worked with more than 28 commercial food processors to process over four million pounds of the total foods offered and accepted into more easily used, cost-effective, oven-ready products such as hamburgers, sandwich steaks, pizza and a variety of turkey and chicken products. The goal of this planned and monitored conversion of bulk foods is to increase the value-added usefulness of federally-donated raw commodities and help local school districts reduce preparation time and purchase costs. The Emergency Food Assistance Program During FY99, TEFAP received more than 8.5 million pounds of federally-donated foods during, an increase of nearly 12 percent over the previous year. These foods reached food banks, hot meal sites, and pantry feeding sites, which served more than 225,000 of the state's neediest citizens. Typical of the 40 different federally-donated foods were canned fruits and vegetables, peanut butter, rice, instant dry milk, pasta, cereal, fruit juice and frozen beef. In addition, for the fourth consecutive year, NJDA participated in a $400,000 fresh fruit and vegetable purchase through the federal Department of Defense. The produce, much of which was locally grown by New Jersey farmers, was used in New Jersey's School Lunch Program. Child Nutrition Programs The first state agriculture department in the nation to house child nutrition programs, NJDA's Bureau of Child Nutrition Programs operates six child nutrition programs in the public and private schools, residential and non-residential child care institutions, day care centers, adult day care centers, family day care homes, recreation centers and other agencies that qualify for federal and state child nutrition funds. These six programs are National School Lunch Program, School Breakfast Program, Special Milk Program, Child and Adult care Feeding Program and the Summer Food Service Program, and the After School Snack Program.

NJDA administered more than $189 million in federal and state funds to the various BCNP programs during FY99. Over 155 million meals and supplements were served by participating sponsors statewide last year. _______________________________
1 Transportation was provided by Meridian Health System Senior Health Services.