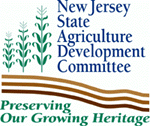 (EAST BRUNSWICK)-Governor James E. McGreevey announced today that New Jersey has permanently preserved 100,000 acres of farmland - an achievement that has helped make the state a national leader in farmland preservation.
"This 100,000 acre milestone is important not only for agriculture, but for the smart growth of New Jersey," said McGreevey. "Farmland preservation protects our working landscapes so that future generations will have the land they need to farm. That is why in my State of the State address yesterday, I promised to preserve 20,000 acres of farmland a year. By limiting sprawl and preserving open space we are also protecting the quality of life throughout New Jersey's communities."

"Farmland preservation is an important part of our efforts to keep New Jersey agriculture strong. By preserving our farms and targeting new economic development opportunities to make agriculture profitable, we can retain our working landscapes, keep today's farmers on the land and encourage future generations to carry on New Jersey's agricultural legacy," said Agriculture Secretary Charles M. Kuperus.
New Jersey has preserved 100,000 acres, approximately 12 percent, of its estimated 830,000 acres of available farmland - a higher percentage than any other state. The State's farmland preservation program helps meet the Governor's goal for smart growth by keeping communities green, open and productive.
"Sprawl consumes more than a million acres of American farmland every year. New Jersey has taken a leadership role in addressing this critical problem by making farmland preservation an important part of the solution. We applaud New Jersey's commitment to its farmers and agriculture, and offer congratulations on achieving this important milestone in saving the land that sustains us all," said Edward Thompson, Jr., Senior Vice President for Public Policy at American Farmland Trust, a national nonprofit farmland conservation organization.
"The Nature Conservancy is delighted with the impressive progress the State has made with preserving 100,000 acres of farmland in New Jersey," said Michael Catania, Executive Director of the New Jersey Chapter of the Nature Conservancy. "We are also very pleased that farms like the Giamarese farm are being preserved since they are critical to the quality of life in our more developed neighborhoods. We look forward to working with the Governor as we seek to protect open space and to meet smart growth goals throughout the State."
About the Giamarese farm and the farmland preservation program:
The Governor made the announcement at the Giamarese farm in East Brunswick, which officially entered the state Farmland Preservation Program in December and put New Jersey over the 100,000-acre preservation mark. The 35-acre fruit and vegetable farm, owned by Jim and Susan Giamarese, annually attracts tens of thousands of visitors with its active farm market, pick-your-own operations, school tours and seasonal attractions.
The State Agriculture Development Committee administers the state's Farmland Preservation Program. The Farmland Preservation Program was established in January 1983, which makes this month the 20th anniversary of the program.
East Brunswick Township purchased the development easement on the Giamarese farm for $1.6 million in 2000 and applied to sell it to Middlesex County. The State Agriculture Development Committee provided the county with a preservation cost-sharing grant of $678,245 and Middlesex County paid an additional $226,081.
Continued commitment to smart growth and farmland preservation:
In his State of the State address yesterday, the Governor outlined ways the State can help target new development to urban centers and older suburbs, control sprawl, and protect the State's most valuable natural resources, including:
Preserving 20,000 acres of farmland a year to preserve rural areas.
Creating or upgrading 200 local parks and adding at least two state parks in the next three years and planting 100,000 new trees across the Garden State.
Devoting at least an additional $100 million over the next three years-a 15 percent increase-to open space protection in areas such as the Highlands.
Creating an incentive for conservation by implementing a limited time capital gains tax waiver for landowners who sell their property to the State's open space program.
The Governor also stated his unequivocal commitment to combating overdevelopment and sprawl by giving local governments the power they need to fight developers and protect their residents, including:
Empowering towns with the legal and zoning tools to control and manage future development.
Allowing municipalities to impose a one-year building moratorium.
Establishing impact fees so that developers, not taxpayers, bear the burdens for the cost of new roads and schools.
Making county and regional planning authorities more effective and professional since the negative impacts of development are not limited to the boundaries of individual towns.