Tree removal at the site of the Asian longhorned beetle infestation in Jersey City is scheduled to begin on Tuesday, January 21st.
The New Jersey Department of Agriculture has contracted with a tree removal service to begin the first phase of tree removal, in which 102 infested trees and 48 adjacent host trees will be removed from the nine-acre site.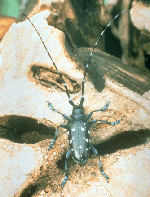 By early spring, more than 300 additional potential host trees on that site will be removed. The trees will be replaced using federal funding secured through the state Department of Environmental Protection's Community Forestry Program.

"The Asian longhorned beetle is a very serious threat to our residential trees and forested lands," said Agriculture Secretary Charles M. Kuperus. "Tree removal is the most effective way to ensure that we eradicate this highly destructive insect."

The Asian longhorned beetle, which attacks and kills maple and other hardwood trees, was discovered in Jersey City in October. It was the first time the beetle, which has caused serious tree losses in New York and Chicago, had been sighted in New Jersey.

The beetle was detected on a largely commercial site located just north of the Newport Parkway and just east of Washington Boulevard. The N.J. Department of Agriculture has quarantined the affected nine-acre site and the surrounding 1½-mile area. With the help of tree climbers from the U.S. Forest Service, state and federal officials continue to canvass parks and neighborhoods for signs of additional infestation in potential host trees.

To date, approximately 30 percent of potential host trees in Jersey City and more than 10 percent of potential host trees in Hoboken have been inspected within the quarantine area, with no further infestation detected. The surveys are expected to continue until at least May 1.

There are no plans to remove trees beyond the nine-acre site unless further infestation is detected. The removed trees will be chipped on site into 5/8-inch diameter pieces - small enough to ensure that any beetle larvae are killed.

The quarantine in the 1½ -mile area surrounding the infested site continues to restrict the movement of firewood, green lumber and other living, dead, cut or fallen material -- including nursery stock, logs, stumps, roots and branches -- from potential host trees. These materials may not be moved outside the quarantined area.

PRESS AVAILABILITY - Staff from the N.J. Department of Agriculture and U.S. Department of Agriculture will be available on site at 11 a.m. Tuesday for reporters and photographers interested in covering the tree removal. Meet at Washington Boulevard and Newport Parkway, opposite the Staples store.