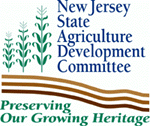 VINELAND - Agriculture Secretary Charles M. Kuperus today announced that a total of 10,000 acres of farmland have been preserved to date in Cumberland County -- a milestone achievement in efforts by the State and county to protect and strengthen agriculture and curb sprawl.

"By preserving this farmland, we are helping to ensure that farming will always be a way of life in Cumberland County," said Secretary Kuperus, who chairs the State Agriculture Development Committee. "Earth Day is the perfect time to recognize this achievement that will protect a finite natural resource - our farmland - and the quality of life in our communities for generations to come."

The announcement was made at a 30-acre vegetable farm in Vineland owned by Angelo and Rita Spadoni. The preservation of the Spadoni farm last month helped Cumberland County reach the 10,000-acre farmland preservation milestone.

To date, 68 farms covering 10,139 acres have been permanently preserved in Cumberland County. Of the total $16.8 million cost to purchase development rights on these farms, the State has contributed $13 million or 78 percent of the cost.

Cumberland County ranks first in the state in total value of agricultural products sold, according to the most recent U.S. Census of Agriculture. In 1997, the total value of Cumberland County agricultural products sold was $94.1 million.

The top five agricultural commodities in Cumberland County, by sales, are vegetables, sweet corn and melons (Cumberland County leads the state in these commodities, with $44.2 million in sales in 1997); nursery and greenhouse crops; fruits, nuts and berries; soybeans, and dairy products. More land is planted for vegetables in Cumberland County - 13,885 acres - than in any other county in the state.

The State Agriculture Development Committee administers New Jersey's Farmland Preservation Program. To date, 849 farms covering 104,218 acres have been permanently preserved statewide.