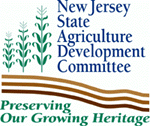 LOWER ALLOWAYS CREEK TWP. - Agriculture Secretary Charles M. Kuperus today joined state legislators in announcing that Salem County has surpassed a farmland preservation milestone with the preservation of more than 100 farms.

"Salem County is an important part of New Jersey agriculture," said Secretary Kuperus, who chairs the State Agriculture Development Committee (SADC). "By preserving farmland, we are strengthening our agricultural industry, ensuring opportunity for tomorrow's farm families and protecting the quality of life for all who value the rural character of Salem County."

Also today, Governor James E. McGreevey signed four bills appropriating $73.2 million for farmland preservation statewide. They include S-2128 sponsored by Senator Stephen M. Sweeney, which includes funding to preserve 29 farms covering 3,019 acres in Salem County.

"Our initiative that was signed this morning by the Governor, earmarks more than $10 million for 3,902 acres of farmland throughout our district, with Salem securing more than $7 million of those monies," said Senator Sweeney. "Securing a healthy balance of preserving open space as well as welcoming development can be a challenging task, yet this measure turns that challenge into a reality."

"Salem County is home to some of the most pristine farmland in South Jersey," said Assemblyman John J. Burzichelli. "The people who work the land and dedicate themselves to protect it, are to be commended."

"South Jersey, particularly the 3rd District, should be proud of its rich agriculture history," said Assemblyman Douglas H. Fisher. "Congratulations to Salem County for their tradition and dedication to preserving farmlands."

The announcement was made at John and Donna Szczechowski's farm on Harasta Road in Lower Alloways Creek. The approximately 100-acre Szczechowski farm was one of two farms the SADC preserved on May 28th, lifting Salem County's preservation totals past the centennial mark to a total of 102 preserved farms covering 15,317 acres.

The 16-acre Seddon farm in Elsinboro also was preserved on May 28th.

Of the total $27.6 million cost to purchase development rights on these 102 farms, the state has contributed $22.7 million or 82 percent of the cost.

Salem County ranks second in the state in preserved farmland acreage; 15,838 acres are permanently preserved in Burlington County.

The State Agriculture Development Committee administers New Jersey's Farmland Preservation Program. To date, 886 farms covering 107,934 acres have been permanently preserved statewide.