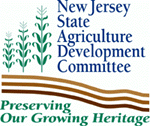 (EAST WINDSOR) - Local farmers Kevin and Sharon Kyle today purchased a 77-acre tract on Perrineville Road in East Windsor, Mercer County, from the State Farmland Preservation Program, fulfilling a 15-year dream of owning a farm for themselves.

Every year the State Agriculture Development Committee (SADC), the independent agency that administers the Farmland Preservation Program, acquires several farms outright to save the land from development. The SADC then restricts these properties for agricultural use and resells them at auction. Because the price of restricted land is much lower than the real-estate market value, such auctions provide the best chance for farmers like the Kyles to buy land for production.

"There is no other program like this that can make land available to farmers at a price they can afford," said Agriculture Secretary Charles M. Kuperus, who chairs the SADC. "It is a key feature in our effort to preserve New Jersey's farmland by making sure we also preserve this industry, helping working farmers to stay on the land."

For 15 years, the Kyles have been tilling 50 acres on various tracts along Cedarland Road, most of which they have to lease from other landowners. These landowners are free to sell or develop their property at any time.

"We could have continued if we had known we were going to have it, but it is mostly leased ground," Kevin Kyle said. There was no guarantee year to year that the land would be available. Now, with 77 more acres of their own, these worries vanish.

"It was a major reason for wanting to own something," said Sharon Kyle, "and the only way we could afford to own it is through this preserved land. We could never afford to buy land like this outright."

The cost of real estate is extremely high in this fast-developing area of central New Jersey, three miles away from two New Jersey Turnpike exits and 10 miles from the sprawling Route 1 corridor. But the land the Kyles bought was restricted for agricultural use only and so the Kyles paid much less for it by purchasing it at an auction from the SADC.

The new Kyle farm is part of the former Cedarland property covering hundreds of acres that the SADC purchased from the landowner at full market price to save the farmland and to protect East Windsor and Mercer County from even more congestion and sprawl.

The SADC in turn restricted the land for agriculture and resold it. Four farmers registered for the auction in March and the Kyles won with a high bid of $365,000, about $4,700 an acre. The State had paid double that amount to protect these acres from development.

"The difference between what the State paid and what we received at the auction is the price we paid to preserve this valuable land," said SADC Executive Director Gregory Romano. "We can now use this money from the Kyles to buy more farms and to resell them to more farmers. It is one of the strongest features of our program."

The Kyle purchase represents a recycling of farmland preservation dollars. Last year, the SADC, working with Mercer County, had preserved a tiny farm owned by Kevin Kyle's mother, and these funds provided a base for them to purchase the larger property they closed on today. In turn, their $365,000 payment will replenish the SADC's fund to purchase more farms.

Now in its 20th year, the SADC has preserved 842 farms totaling more than 100,000 acres by acquiring the development rights from the landowners. But since 1990, the SADC has also purchased 44 farms outright at a cost of $57 million. These farms, totaling more than 7,600 acres in 11 counties, were then restricted for agricultural use and resold at auction to working farmers like the Kyles. These resales have returned $22 million to state coffers to replenish farmland preservation funds.

Governor James E. McGreevey on June 2 signed four bills appropriating $73.2 million for farmland preservation. About $59 million was earmarked to preserve 164 specific farms by acquiring the development rights. But $14 million was also set aside in a special fund to purchase farms directly as they come onto the market before developers can grab them.

As important as saving farmland is the fact the Kyle family can now remain in business, and that their local customers will continue to receive a steady supply of fresh local fruits and vegetables.

The Kyles for 12 years have owned and operated K&S Farms roadside market and nursery on Route 539 in Cream Ridge. The fruits and vegetables they raise in East Windsor will go to their store or be sold at the Englishtown Farmers Market and at other farm markets in northern New Jersey. "You control your price more this way. When you sell wholesale, it is a little tough to make a living," Sharon said.

Under agreement with the SADC, the Kyles have already been farming the 77-acre Perrineville Road tract, planting such a startling variety of produce, from beans to corn to strawberries, from cabbage to cut flowers, it seems easier to list the things they do not grow. "Kevin's finally got plenty of room now to work," said Sharon.