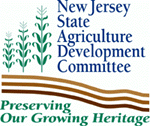 (Trenton) -- New Jersey's Farmland Preservation Program today awarded its first Farmland Stewardship grants to help owners of permanently preserved farms improve the efficiency and economic viability of their agricultural operations.

"To save New Jersey's farms, we need to not only preserve our farmland, but also ensure that farmers are economically successful so they can continue to work that land. By helping farmers improve their operations, these grants further New Jersey's investment in ensuring a strong and viable agricultural industry, now and in the future," said Agriculture Secretary Charles M. Kuperus, who chairs the State Agriculture Development Committee (SADC).

The SADC in a unanimous vote approved $173,436 in matching grants to 13 farmers. The grants range from $1,650 to $20,000 to share the cost of a variety of projects, everything from marketing assistance and automating product labels to improving livestock barns and putting more acres into cultivation.

The SADC is an independent 11-member board that administers the Farmland Preservation Program. This work includes protecting the viability of agriculture through soil conservation grants, enforcement of the Right To Farm law and other measures. These Farmland Stewardship grants use funds procured by the SADC in a grant from the U.S. Department of Agriculture.

The SADC last year authorized teams of consultants to visit and evaluate the operations of 26 Farmland Stewardship grant applicants. These experts provided "planning strategies" for each farmer on how to improve operations. The consulting work cost $60,000 and formed the basis for today's grants to 13 of the applicants, bringing the total Farmland Stewardship program to about $234,000.

SADC Executive Director Gregory Romano said, "These grants are investments in the productivity of land we have preserved. The applicants showed a willingness to re-evaluate their entire business and they are putting up significant matching funds of their own, often as much as 80 percent of the project cost."

A list of grants appears on the reverse side or is attached.

The State Agriculture Development Committee established in 1983 is an 11-member board. To date it has preserved 897 farms totaling 108,834 acres.