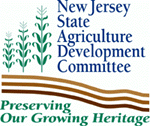 (TRENTON) - The State Agriculture Development Committee (SADC) today approved deadlines for its next round of farmland preservation applications:
The deadlines are as follows:
Planning Incentive Grant (PIG) program: Jan. 14, 2004
Nonprofit Grant Program: Feb. 4, 2004
State Direct Easement Purchase: Feb. 4, 2004
The deadline for the County Easement Purchase program is Sept. 15, 2003, an annual deadline set in regulation. The other deadlines are set annually by the SADC, which administers the state Farmland Preservation program.
Under the PIG and Nonprofit programs, local officials and organizations take the lead in filing applications and dealing with farm owners to preserve their farms. Under the State Direct Easement Purchase program, farm owners apply directly to the SADC, which handles negotiations and conducts appraisals.
Under the County program, County Agriculture Development Boards select farms for preservation and apply to the SADC for cost-share or reimbursement.
Most farms are preserved by the purchase of development rights, which involves the placement of easements on the property restricting its use to agriculture only.
However, the SADC also acquires farms outright through the Fee Simple program to protect them from development. The Fee Simple program can be used to buy outright and preserve a farm at any time without concern for deadlines.
The State Agriculture Development Committee established in 1983 is an 11-member board. To date it has preserved 918 farms totaling 110,266 acres.