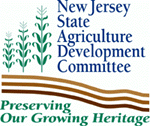 (Trenton) - The State Agriculture Development Committee (SADC) today approved $10 million for farmland preservation grants in nine new project areas around the state through the Planning Incentive Grant (PIG) program.

"These new grants will further our efforts to preserve farmland and strengthen the agricultural industry in close partnership with local officials and county officials, who have planned and designated these project areas as priorities for preservation," said Agriculture Secretary Charles M. Kuperus, who chairs the SADC. "This is what our whole Smart Growth program is about."

Funding for the new Planning Incentive Grants is part of $24 million allocated today to 50 PIG project areas around the state. The nine new project areas are in Burlington County (four), Hunterdon County (two), Mercer, Morris and Warren counties.

The PIG program places priority on preserving large blocks of reasonably contiguous farms in a designated project area where local officials have made a commitment to preserving farmland and the agricultural industry. The program gives local officials and municipalities the chance to become more involved in farmland preservation decisions, and county agencies the opportunity to concentrate preservation efforts in high priority areas. These project areas also create an opportunity to coordinate economic development with the farming community.

The SADC is an 11-member board that administers the Farmland Preservation Program. In the past three months, the SADC has allocated a record $48 million for PIGs - $24 million in May and $24 million approved today. It is hoped that as individual farmland preservation applications are processed during this decade in the nine newly funded PIG project areas, 390 farms totaling more than 28,000 acres will be preserved.

SADC Executive Director Greg Romano said more than 60 PIGs in 39 municipalities in eight counties have been approved by the SADC and are receiving funding. "We provide funds annually in stages, which allows us in closer partnership with local leaders to concentrate on preserving a group of farms together instead of dealing with one individual farm owner at a time."

A list of the 9 newly funded PIGs is attached.

The State Agriculture Development Committee established in 1983 is an 11-member board. To date it has preserved 918 farms totaling 110,266 acres.