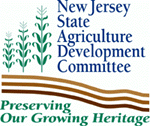 (HAMPTON TOWNSHIP) - A 70-acre horse and cattle farm in Hampton Township is the newest addition to Sussex County's roster of preserved farmland as the county steps up momentum of its farmland preservation efforts, Agriculture Secretary Charles M. Kuperus announced today.

"Sussex County officials are to be commended for their exceptional efforts to preserve farmland and keep agriculture vibrant and viable in this fast-growing area," said Secretary Kuperus. "We will continue to work vigorously with them to preserve more farms in this beautiful county." Kuperus chairs the State Agriculture Development Committee (SADC), which administers the state Farmland Preservation Program.
To date, Sussex County has preserved 45 farms totaling 7,404 acres - 25 of them in just the past 30 months. All of the farms were preserved by the purchase of development rights in cooperation with the SADC. The Sussex County Agriculture Development Board has been instrumental in the purchase of every preserved farm except for two spearheaded by the Nature Conservancy.
Andrew and Lisa Fairclough said they were pleased to preserve their farm, a 70-acre tract in rolling green hills along a still-rural section of Plotts Road.

"Several years ago with all of the building that is going on in Hampton Township, we realized that we wanted to keep the acreage intact and we wanted to keep the animals on the farm," said Lisa Fairclough. "When the farmland preservation people approached us, we thought it was a great idea."
The Faircloughs have a specialized equine operation, raising and training polo ponies. They also keep a small herd of Angus beef cattle during parts of the season. The Faircloughs said they intend to reinvest the funds they received for preserving their farm to buy two neighboring farms that have been already been preserved by Hampton Township in partnership with Sussex County.
The easements on Sussex County's 45 preserved farms restrict them for permanent agricultural use while the land remains privately owned. These easements have cost $20.4 million, with county and local officials contributing $6.6 million of the cost and the state contributing $13.8 million.